Grab Our Exclusive Deal On Messenger Bot
Instead of our regular monthly pricing, we're offering a pay-once-every-year deal for a limited time only.
Unlimited Sequence Campaigns
Plans Inclusion
These features are included in all deal plans, no matter the plan you select.
Visual Flow Builder + Web View Form Builder
Zapier Integration + JSON API
Build your first automated workflow with Messenger Bot in minutes, not days or weeks!
Messenger Bot comes with complete documentation, video tutorials, and guides!
Save Time and Money With Messenger Bot
Here are the facts:

Businesses spend roughly $1.3 trillion on customer service each year, it is estimated that chatbots could help businesses save up to 30% in customer service costs.
The use of AI can lead to a 99% improvement in response times.
67% of internet users have used a chatbot within the past year, with 35% of them purchasing something from the chat bot.
Roughly 58% of the businesses using chatbots are B2B.
Around 71% of businesses that use chatbots have between 1-50 employees.
Facebook already has over 300,000 chatbots deployed on the platform.
It is estimated that 80% of businesses will utilize some sort of chat bot automation by the end of 2020.
Messenger Bot Is Much More Than A Simple Chat Bot!
Now it is possible to have complex conversations automatically!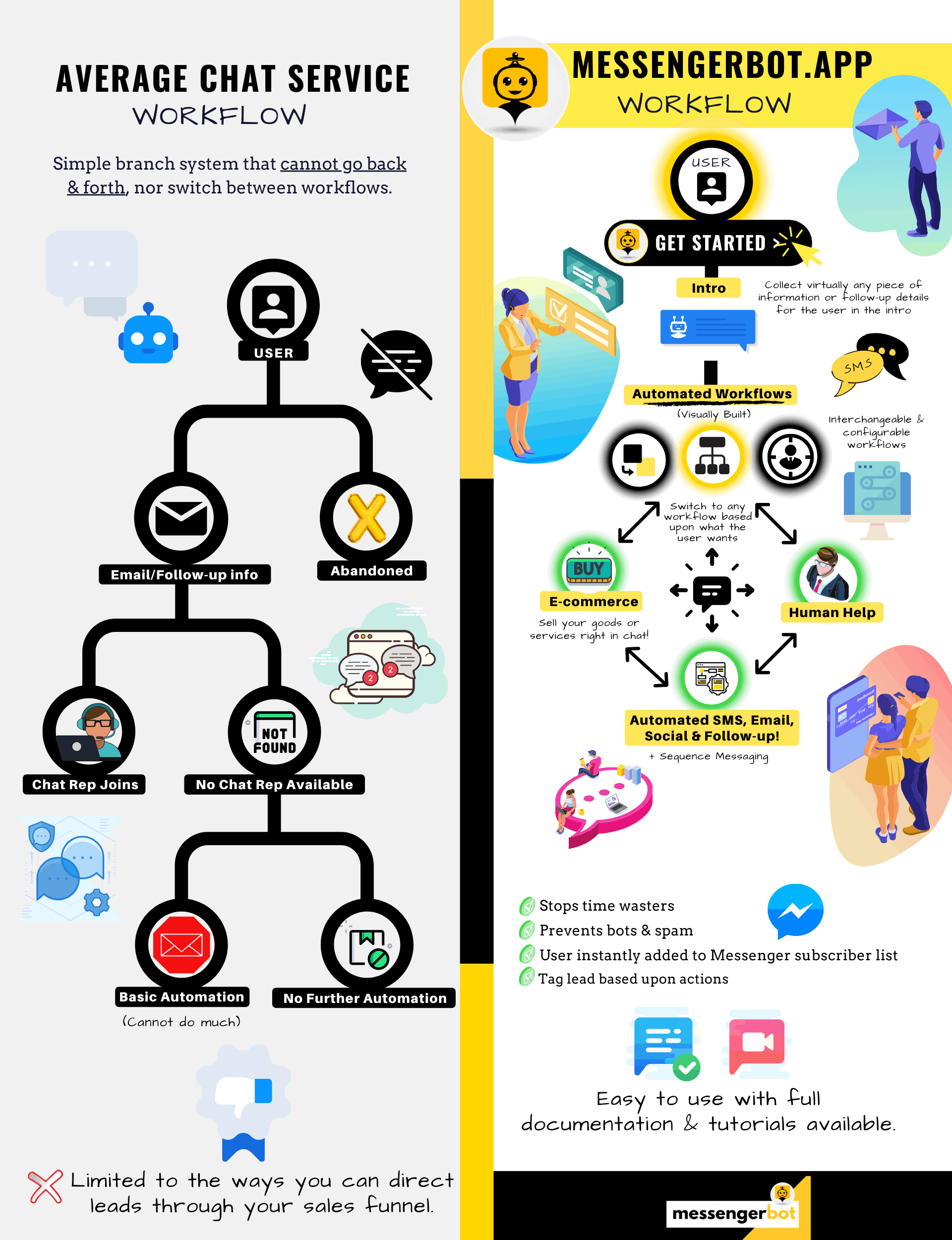 Sequence Messaging Campaigns
Messenger eCommerce Stores
USAGE
Visual Flow Builder
Email Auto-Responder, Broadcast, Sequence, Subscribe, and Templates
Comment Moderation, Automation, & Reply Tools
Website Chat (Live or Automated)
Subscriber Sync and Import
Abandoned Cart Recovery Tools
SMS Broadcast, Sequence, Subscribe, and Templates
Social Network Scheduler and Posting
$ 9.99 / 30 days
(
$ 119.88 / yr 

)
$ 71.99 / yr
$ 24.99 / 30 days
(
$ 299.88 / yr 

)
$ 179.99 / yr
$ 149.99 / 30 days
(
$ 1,799.88 / yr 

)
$ 1,079.99 / yr
$ 9.99 / 30 days
(
$ 119.88 / yr 

)
$ 71.99 / yr
Unlimited Sequence Messaging Campaigns
1 Messenger eCommerce Stores
Messenger Bot Enhancers
✔
Email Auto-Responder, Broadcast, Sequence, Subscribe, and Templates
✔
Comment Moderation, Automation, & Reply Tools
✔
Website Chat (Live or Automated)
✔
Subscriber Sync and Import
✔
Abandoned Cart Recovery Tools
✔
SMS Broadcast, Sequence, Subscribe, and Templates
✘
Social Network Scheduler and Posting
✘
$ 24.99 / 30 days
(
$ 299.88 / yr 

)
$ 179.99 / yr
Unlimited Sequence Messaging Campaigns
5 Messenger eCommerce Stores
Messenger Bot Enhancers
✔
Email Auto-Responder, Broadcast, Sequence, Subscribe, and Templates
✔
Comment Moderation, Automation, & Reply Tools
✔
Website Chat (Live or Automated)
✔
Subscriber Sync and Import
✔
Abandoned Cart Recovery Tools
✔
SMS Broadcast, Sequence, Subscribe, and Templates
✔
Social Network Scheduler and Posting
✔
$ 149.99 / 30 days
(
$ 1,799.88 / yr 

)
$ 1,079.99 / yr
Unlimited Sequence Messaging Campaigns
Unlimited Messenger eCommerce Stores
Messenger Bot Enhancers
✔
Email Auto-Responder, Broadcast, Sequence, Subscribe, and Templates
✔
Comment Moderation, Automation, & Reply Tools
✔
Website Chat (Live or Automated)
✔
Subscriber Sync and Import
✔
Abandoned Cart Recovery Tools
✔
SMS Broadcast, Sequence, Subscribe, and Templates
✔
Social Network Scheduler and Posting
✔
Transform The Way You Do Business Online With The Best Chat Bot Available
All of these features are combined into ONE easy to use dashboard.
Here are other ways Messenger Bot is used
Messenger Bot is being used in many ways. Here's a small list of how people are using us right now.
Customer Support
Intelligently route customers to their desired destination based upon their actions and behaviors.
Collect Information From Clients
Intelligently route customers to their desired destination based upon their actions and behaviors.
Frequently Asked Questions
Give users the answers they need instantly while simultaneously freeing support staff.
eCommerce
Sell directly in Messenger with a new or existing store!
Lead Generation
Interact with users and generate leads automatically!
Completely Customizable Forms
Create fully customizable and conversational forms in Messenger + your Website!
Real Estate
Show properties and generate qualified leads automatically 24/7.
Restaurant
Run promotions, take reservations and payments!
Travel & Tours
Get more travel and tourism bookings, showcase your unique outings.
Car Dealership
Show and sell cars through Messenger + your site!
Feedback and Surveys
Create fully customizable automated surveys and feedback forms!
Insurance
Help present & select policies + give quotes as well as set appointments.

$149.99/month
$1,079.99/year
For your entire business or team:
✔ Unlimited Facebook Pages
✔ Unlimited Chat Sessions
✔ Unlimited Sequence Messaging Campaigns
✔ Unlimited Messenger eCommerce Stores


ManyChat: $7,800/year for 10 pages (not accounts, limited to 10k subscribers), $23,400 for 30*…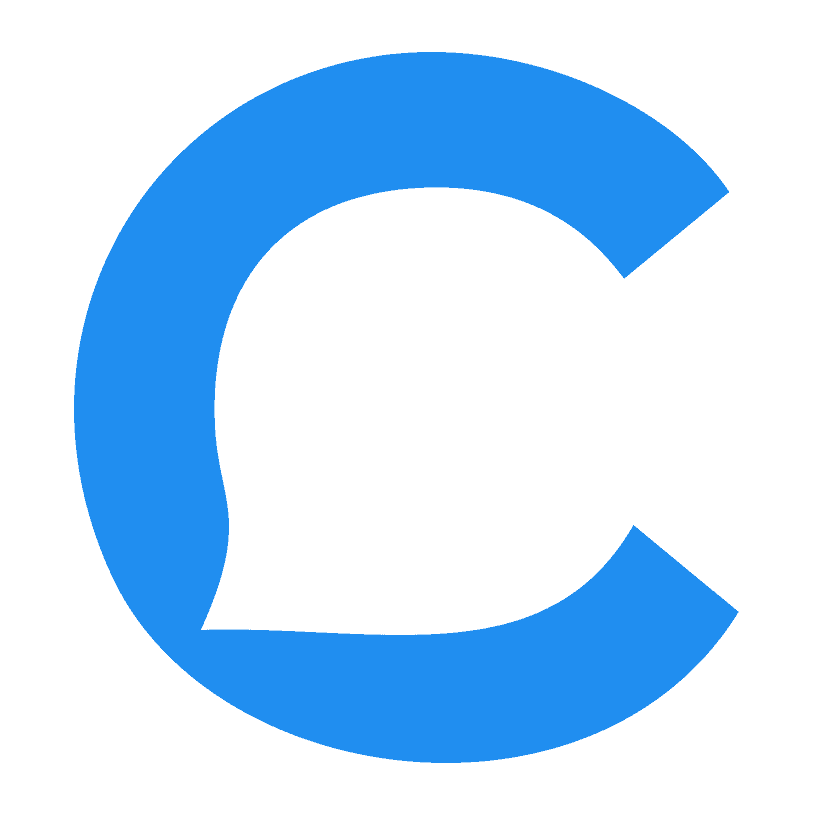 ChatFuel: $10,200/year for 10 pages, (not accounts, limited to 10k subscribers) $30,600 for 30*…

MobileMonkey: $4,680/year for 10 pages (pro plan, limited to 2k sending credits), $14,040 for 30*…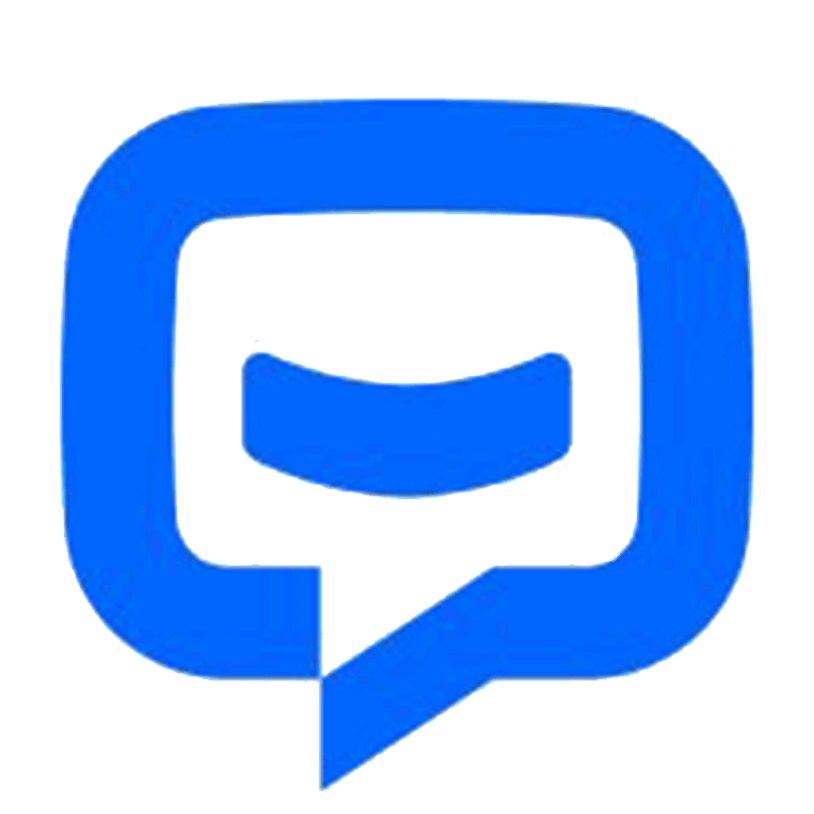 ChatBot: $3,576/year  for 10 people, (limited to 2 team accounts for 10 bots total and only up to 5,000 chats a month included) $10,728 for 30*…
*Comparisons used were for plans comparable to Messenger Bot's Agency plan.
The companies used for comparison have other offerings available and are not limited to this comparison.
What is a Facebook Messenger Bot?
A Facebook Messenger bot is an automated chatbot that can be utilized to enhance not only the Messenger experience, but also the chat experience on your website.
What can Messenger Bot do for my business?
Messenger Bot will enable you to automatically welcome new users, respond to specific keywords or phrases, syndicate content, generate leads, make sales, and more!
Why do I need Messenger Bot?
As each day passes, it becomes increasingly more difficult to reach your target audience.  It is a fact that many of the traditional marketing methods no longer provide the same results as they did years ago.
Our Facebook Messenger bot solves this problem by allowing you to achieve over 80% open rates with real-time interactive messaging and chat campaign sequences.
How do I create a Facebook Messenger Bot?
First, you will need a Facebook account and a Facebook page with administrative rigts to manage it. 
After that, you purchase your deal (or sign up for a free trial) and then select "Import Account".
From there, use our Visual Flow Builder to create and deploy your bot in minutes, not days!  Now you can start real conversations with your customers, any time.
Is there a trial?
Yes, you can get your free trial before purchasing with no credit cards required here.

When does this offer expire?
This offer will expire soon, so if you want to avail the best discount, you will want to order now.

Ready to make a real change? Let's build this together!
Get to know Messenger Bot without any restrictions and only start using it to its fullest when you love it. We'll be waiting for you.
Get started for free
GET THIS DEAL 🔥
Why You Need Messenger Bot to Drive Sales in Your Business
For marketers, Facebook Messenger is now becoming a novel and effective way to reach out to current and potential subscribers of your Facebook page and business. With the use of Messenger bots, you can spread information at any time of day without lifting a finger.
One of the most powerful bot apps, Messenger Bot, has quickly become a leader in this new industry. Our marketing software has so many features that make marketing a breeze for companies large and small. By using this app, you can now reply to chats 24/7, send messaging in large quantities, and even post videos and pictures to your Facebook page. If you need it for your business, Messenger Bot undoubtedly has it! In our own unique way, we can give you a high level of chat bot service you don't see anywhere else.
Let's take a look at all the services and features our fantastic app provides. This impressive software is sure to be the most ideal Facebook messenger marketing tool for you.
What Is a Facebook Chatbot?
If you are only vaguely aware of what a Facebook Messenger bot app or Facebook chatbot does, you need to understand how it can catapult your business to the next level. The software is automated to send out messages through Facebook Messenger by using artificial intelligence to interact with people. When implemented, it can understand questions that are asked of it and answer those inquiries correctly.
There are strategic advantages to using a Facebook Messenger bot for your company. If you want to become a household name, using Messenger is a smart way to get your company and mission in contact with billions of people. Facebook Messenger is comfortably in the top five when you are talking about the most used apps in the world. With this being the case, why shouldn't you use Messenger for your business needs? Customers appreciate the app because it provides a convenient and fast way to reach out to businesses around the world. A company can grow and increase exposure while providing active customer service at the same time.
Another advantage that a Facebook bot can provide is lead generation. When your bot app reaches out to potential customers, it can ask basic questions to identify the needs and wants of the person. The app can direct the prospect to your customer service or sales team to take over and land the sale. As you are going to see, Messenger Bot can do all of this and more.
Bulk Messages and a Facebook Bot
When you have a Facebook page, there are times when you want to reach out to subscribers and potential customers to spread a message. Messenger Bot has a bulk message feature to achieve just that. Why do bulk messaging? For one, it can be delivered fast. When you utilize this feature on Messenger Bot, your communications can reach anyone in seconds. You can send a mass message to thousands when you use this app and know that it is going to be delivered as intended. Your leads can converse and interact with you, which builds trust when they receive accurate and easily understandable answers to their questions. This outstanding feature that Messenger Bot has helps to retain your customer base, which is part of the foundation for business growth. We are proud to state that we were the first to have bulk message abilities that can reach all subscribers.
Additional Auto Features, Including Facebook Chatbot
In addition to auto comment replies, Messenger Bot is also a Facebook Messenger chatbot that can help auto comment like and auto comment private reply. These two unique features can help drive more customers to your business and keep them there.
Messenger Bot is a Facebook Messenger chatbot that is highly adaptable by using software that is intelligent and intuitive. We take pride in our unique approach to Facebook marketing. Next, you are going to see what else we can do for you and your business.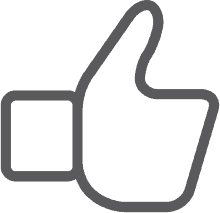 • Auto Comment Like
This feature gives you the ability to like subscriber comments that you find on your page and under your posts. This engagement can increase activity on your page as others see that you are a company that appreciates what its customers and potential customers have to say. It helps get you the attention you are looking for. Adding likes to many comments can also retain your customer base when they see your constant involvement in your business.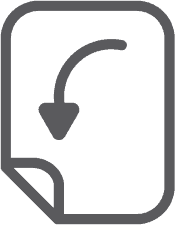 • Auto Comment Private Reply
The same benefit applies to Messenger Bot's auto comment private reply. You are going to have situations where someone reaches out to you privately to comment or ask a question about your business. Our app allows you to reply to these messages at any time of day with the response you require. The reply is designed according to your specifications, and the message can change when needed.
Facebook Posting with a Message Bot
Our message bot allows you to not only post text to your Facebook page and groups, but you can also automate posting and sharing photos, videos, and links. There simply is nothing that Messenger Bot can't do! With this feature, you can now roll out whatever type of media you want at any given time. Using a mix of text and visual tools can re-engage your subscribers and win you new ones all at the same time.
Increased Engagement with Messenger Marketing
Our Facebook Messenger bot can help you receive better engagement from your subscribers and customers. Research has shown that when you have high engagement, you have a greater chance of leveling up your sales. You can use Messenger Bot's many features to achieve this success. Automated rollouts of imagery and other visual content can keep your customer base interested in what you have to say. It can create a relationship that centers around the trust he or she now has for your business. We understand how vital this engagement is better than anyone else in the chatbot world. When you use us, you can see results almost immediately.
Personal Content from FB Messenger Bot
Our software can also give your customers personalized responses to all of their comments and concerns that they may have. As a subscriber, when you have a customized experience with a company online, it can give them the view that you care about their thoughts and presence as a customer. For those with a sales and marketing background, you know that customer satisfaction is a huge part of a successful business model. At Messenger Bot, we can help you create this valuable personalization that your customers require to stay loyal.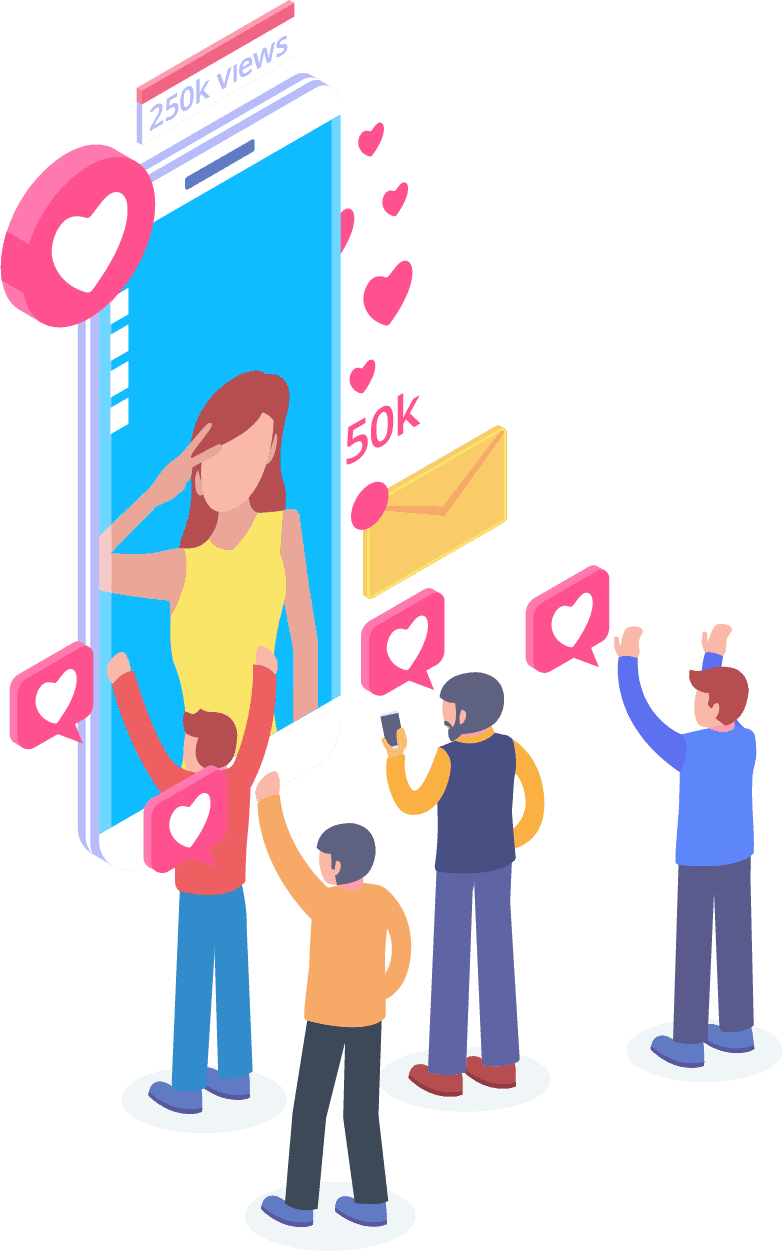 A Big Social Media Presence with Facebook Messenger Marketing
In today's world, businesses need an excellent social media presence to stay ahead of the game. Facebook has steadily become a platform that can increase a company's visibility and bring new subscribers and customers to your page by the hundreds. One of the best ways to interact with these Facebook users is through a chatbot app. Our FB messenger bot can help you to entertain, inform, and teach those who interact with your page regularly.
A proper marketing strategy should require the use of Facebook and social media to facilitate a company's growth. Using our app can help you create a full and robust marketing plan that can lift your business profile to previously unattainable levels. Our chatbot service is designed just for Facebook and can adapt as the social media giant makes changes. Messenger is a mostly untapped social media tool that can make you into an industry leader when you know how to use it. We can take away the guessing games and help you to achieve your business goals one step at a time.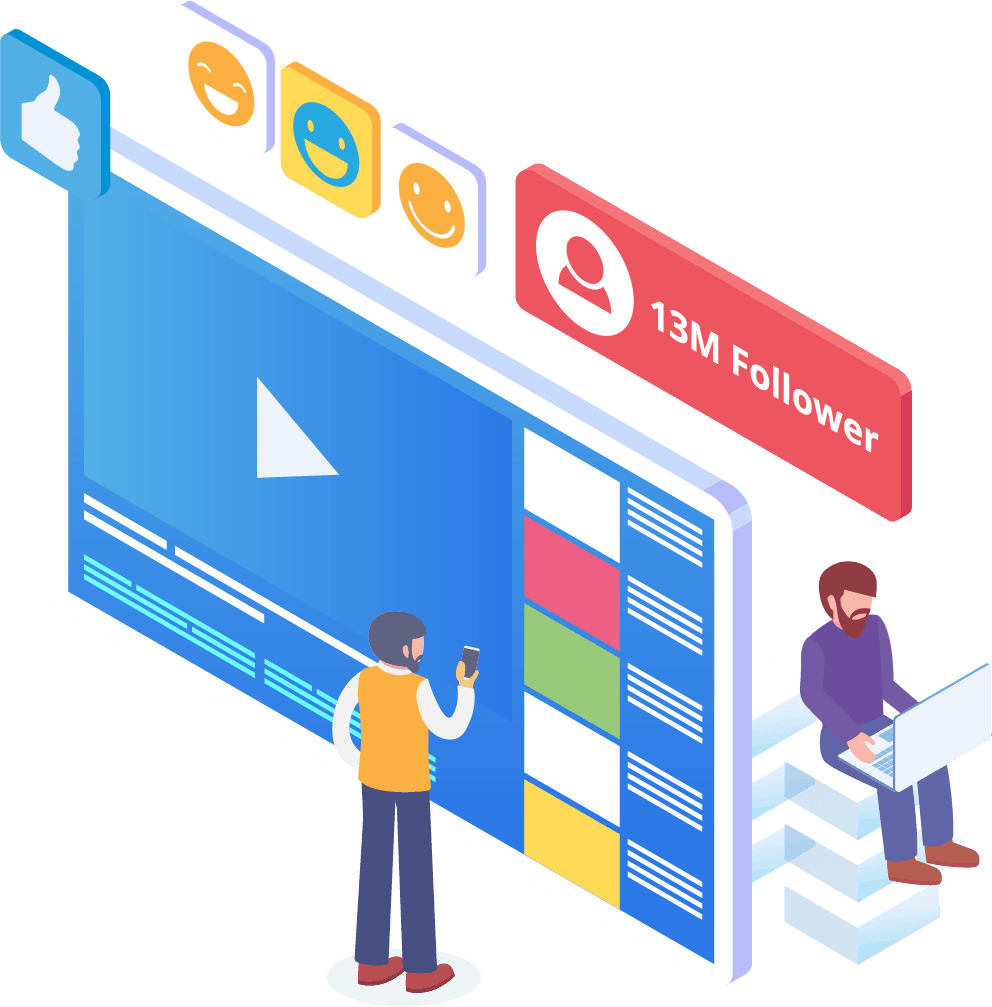 Analyze Your Data With Messenger Bot
As stated previously, our app can also compile reports that are meant to analyze Facebook and subscriber data. Messenger Bot's software is designed to understand how humans work when it comes to interacting with Facebook. The analytics we provide to business enables you to dig deep when creating strategic sales and marketing protocols to use and grow your company. We give you the whole picture to look at, and from there, you can extract what is needed to make you more successful.
This in-depth data analysis can generate new sales, leads, and customers. By looking back at all interactions your page and subscribers had during any given time, you can now create content that targets your base audience. We get rid of the extras that aren't necessary when trying to make new and relevant content. Your focus stays where it should.

Convert Your Leads With Messenger Bot
Messenger Bot can help direct your leads to a sale. Our automation software starts the process by grabbing the attention of a potential customer. We can engage with the prospect of a basic but personal level that gives them the feeling that they matter to your business. You can now better target those customers and keep in contact with them after the initial exchange.
With a quicker response time, your prospective customer's satisfaction rate goes up as they receive their answers in real-time without any complication or hassle. The straightforward experience improves retention and future sales. When a new customer comes into contact with a business, first impressions mean everything. By using Messenger Bot, you get rid of any complications and unforeseen problems when trying to chat with a subscriber.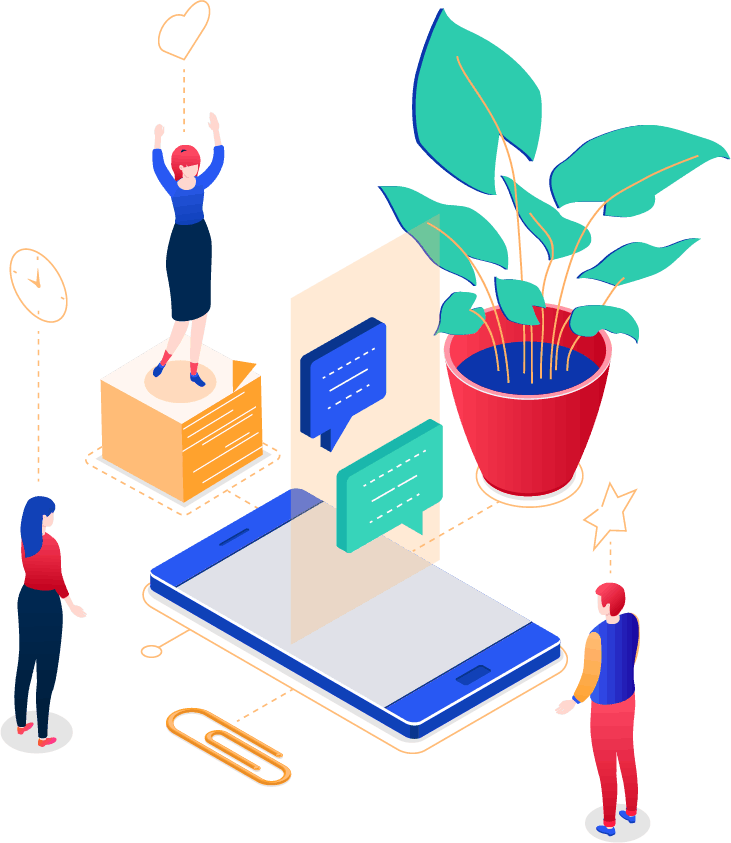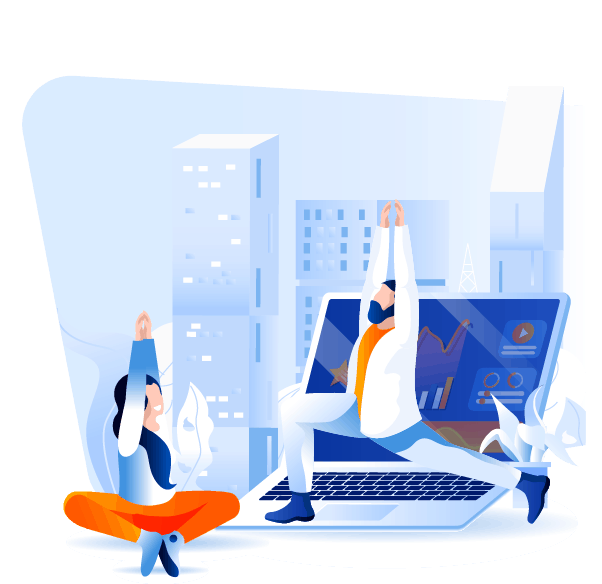 Free up Your Time With A Facebook Bot
Let Messenger Bot do all the engagement work for you and your business. That way, you can now focus on other essential tasks that demand your complete attention. With our innovative app, there is no more worrying about forgetting to post or unintentionally ignoring a comment or question. It doesn't matter when the engagement comes in, either. Our software is designed to respond when needed. This feature means 24/7 service for you and your subscribers.
With our software, all you need to do is input what you need on our easy to use interface, and we take it from there. You are left with a complete campaign that we cater for you. You can rely on us to get your information out there to eager eyes and ears.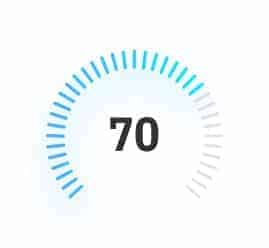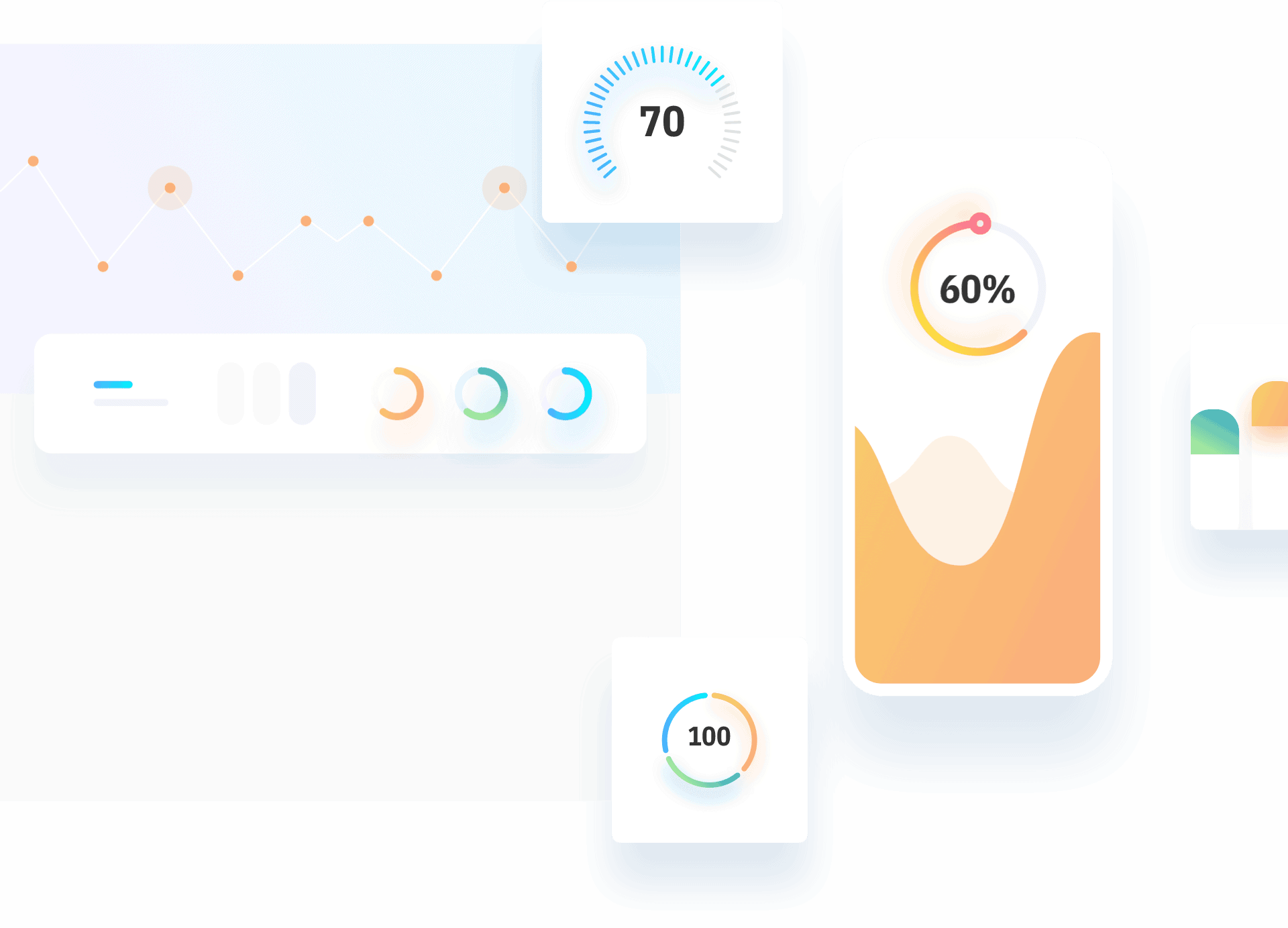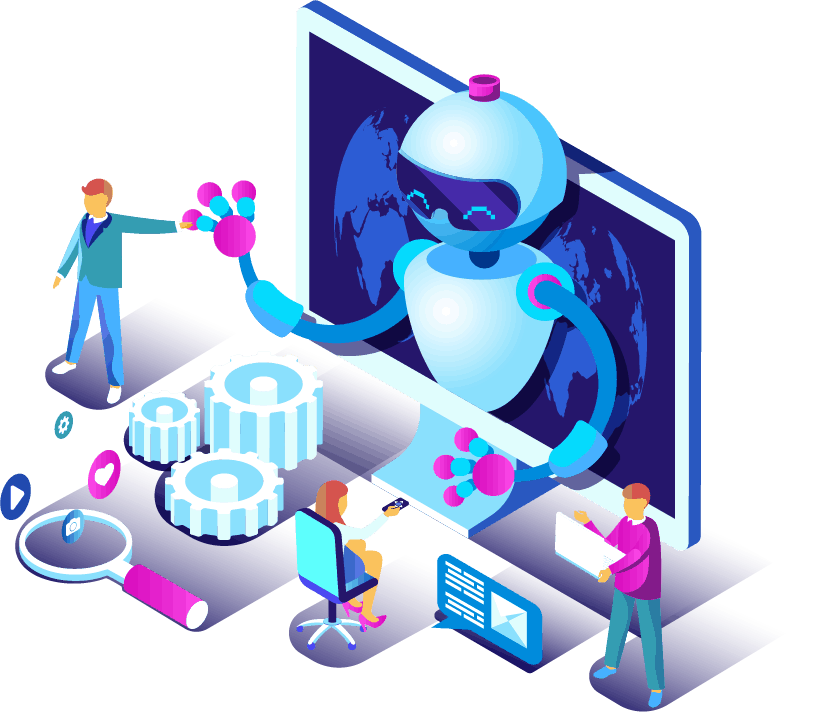 Take Advantage of Facebook's Popularity
Facebook is not slowing down anytime soon. The widely popular social media site is used by over one billion people around the world, and that it includes Messenger. Users of the app enjoy Messenger because it is easy to use. They don't have to click through several links or pages to get to where they want.
This advantage is suitable for businesses who want to communicate with their base on the ground level. Messenger Bot has the same easiness and convenience that is attractive to Facebook users. When they engage with the software, they are provided with simple and easy to understand information that can give them an informative opinion on a product or company. This customer service is available when they need it and without a wait time.
New Opportunities Abound
Our bot app can give you new opportunities that other businesses that choose not to use a messenger bot aren't going to have. The Messenger app is still considered a new approach to digital marketing, so any strategies you use through us is not going to be time-worn and weathered. We give you the leading technology that is meant to differentiate your business from others.
Through Messenger Bot, you are going to find out what works and what doesn't work for you when it comes to sales and marketing. By using our resources, you can streamline the approach over time and ensure you are putting your best foot forward when it comes to your brand. Competitors who aren't using our chatbot are at a distinct disadvantage when it comes to mass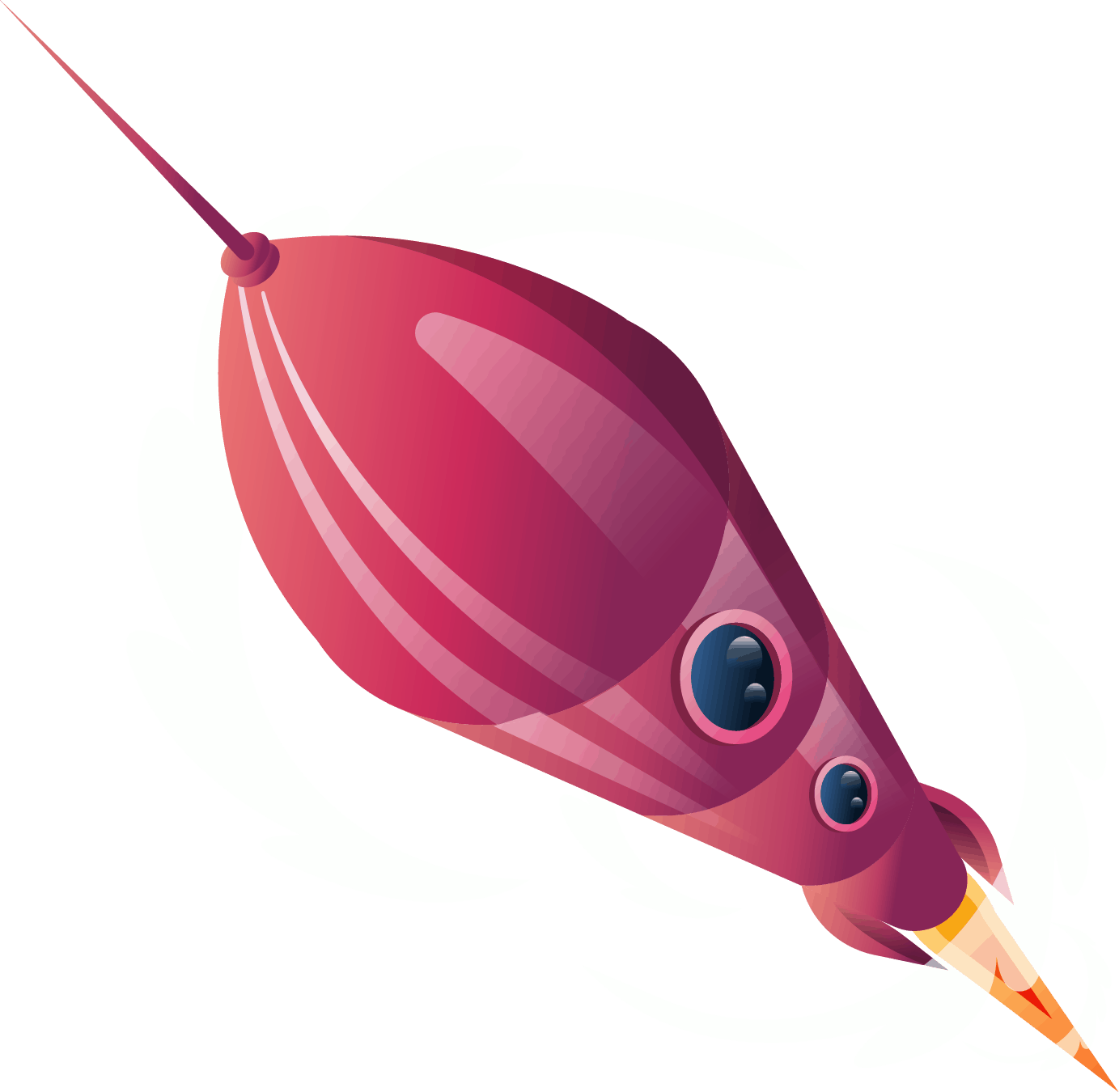 Improve Customer Service With Facebook Chatbot
Of course, you are going to enhance and improve whatever customer service you provide now with our app. We take into consideration all customer service aspects when it comes to our software. We have high-quality answers that can satisfy customers and lead them to make quick purchasing decisions. The immediate response time stops the potential buyer from leaving your page to buy a product elsewhere.
Also, when our chatbot asks for information from your customer, it serves as a level of pre-qualification. When someone is looking to buy something from your business, you can use that voluntary information to serve future campaigns and product launches better. You have now eliminated the need to spend hours of work to get those simple details.
The chatbot also gives you the option of switching to an actual human operator when questions get advanced, or you want to take the reins on a potential sale. With Messenger Bot, you really can have your cake and eat it too! You now have customizable customer service with swift communication and automation tools that are designed to facilitate growth and visibility.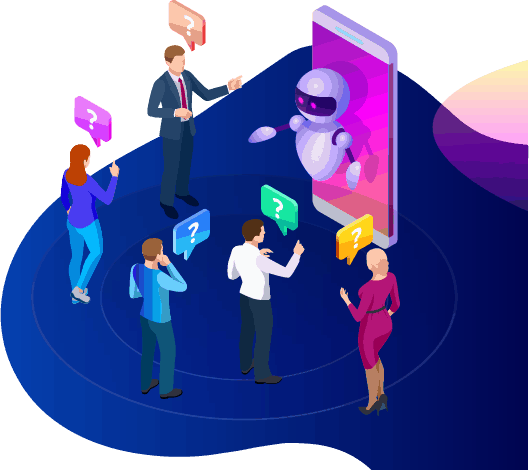 Building Brand Awareness
Our Messenger bot allows you to let potential customers know what your business does and what you stand for. This insight is especially helpful for those who have just heard about you or your industry and are looking to find out more about it. You can capture interest within seconds of the initial interaction. By using inviting words and phrases, you can quickly warm up a cold audience and build a relationship that can last. The best thing about building your brand awareness through our app is that our software easily adapts to different businesses and industries. There are so many ways to make your brand through us!
With just a few quick actions, you can let your audience know everything about your business. Follow up questions can be addressed, and your potential customer can now be directed deeper into your sales funnel.
Mobile Optimization
With so many people and consumers using their phones for everything, Messenger Bot recognizes the potential for sales and customer retention by using Facebook Messenger for outreach. Our software is made with mobile devices in mind. We leaned towards a clean and straightforward approach when we designed our software. The result is a bot system that works seamlessly with mobile devices and Facebook.
Fully Customizable Messenger Bots
It was touched on before that Messenger Bot is customizable and can adapt to your changing business needs. This feature is valuable for businesses as there is room to change and grow. We have built a fully functioning chatbot that can move along with your company no matter the direction. You can change your strategy when you need to, and we are going to be there without interruption.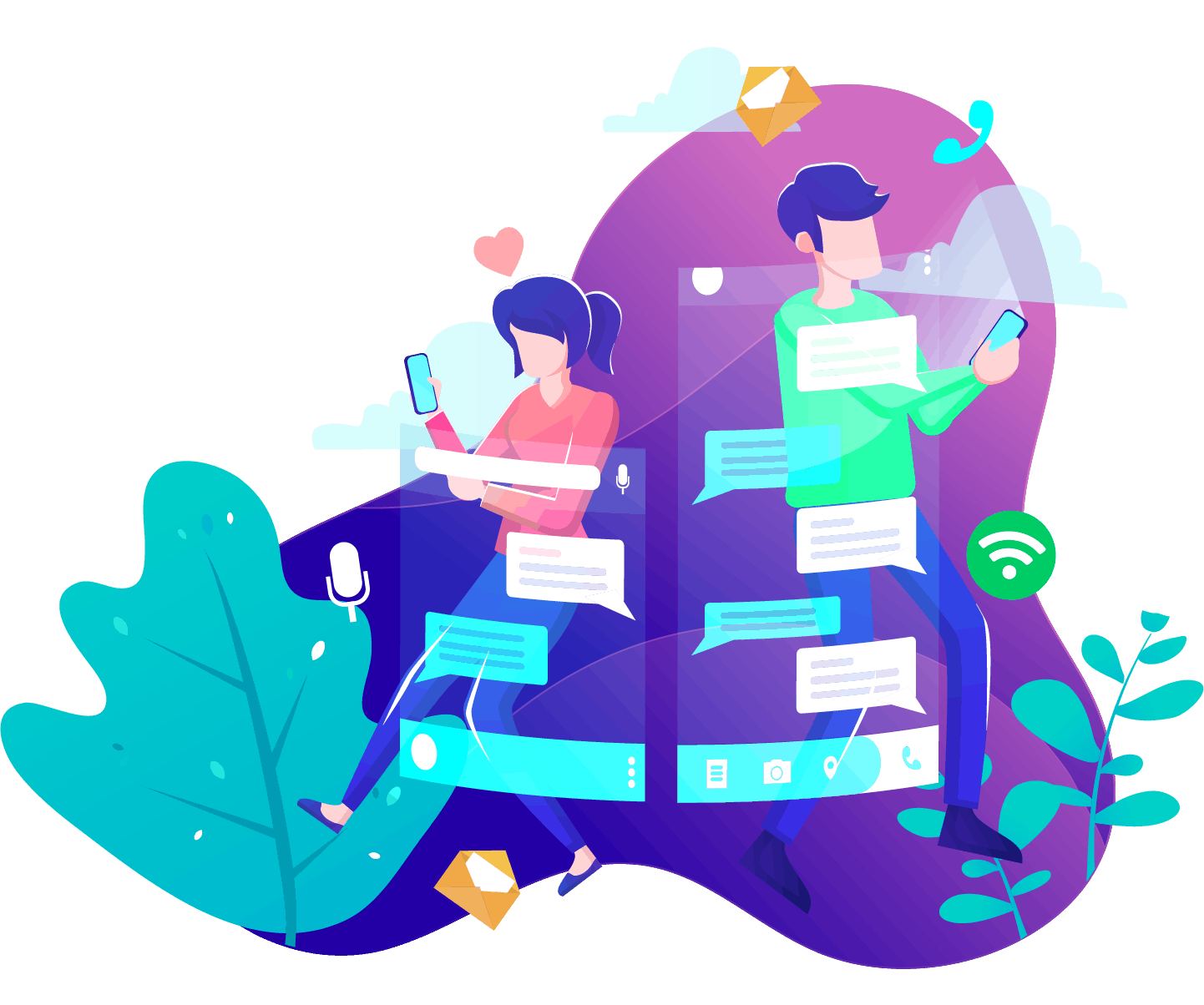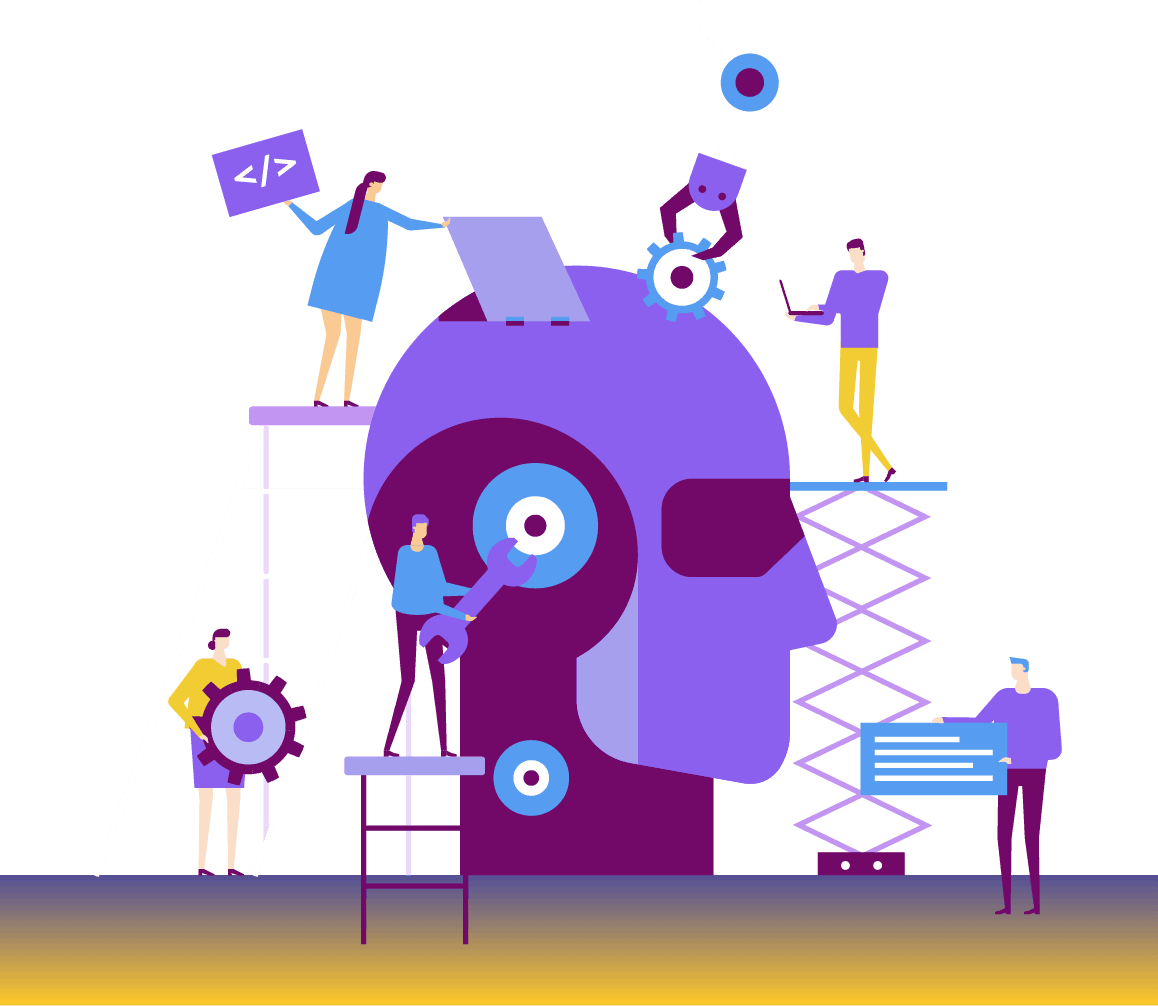 Easy To Use Messenger Bot
We know your time is valuable. When you want to implement a new marketing strategy through our app, you don't want to think about it day after day. Our bot service has you covered. Once you tell us what you need, we can do the rest. In just a few minutes, you can launch a campaign that can increase engagement and bring you, customers. You don't even have to lift a finger from the initial implementation if you don't want to. Our complex technology ensures that your user experience is hassle-free and easy.
Messenger Bot is designed to help you and your business reach its maximum potential in terms of marketing and sales. Through our innovative app, you can extract valuable information that can increase your Facebook visibility and popularity. Your new connection to subscribers helps retain your base and win over new customers. There is nothing like it! Try us today, and you are going to be blown away by the results.