In this blog post, we will compare and contrast Zoho CRM vs. Hubspot CRM and Messenger Bot.
We will explore the differences in features, pricing, integrations, and other considerations that will help you make a more informed decision. For those of you who don't know about either Zoho or Hubspot, or Messenger Bot – here is some background information on these three software programs:
Zoho is an all-in-one business solution suite that includes sales management, marketing automation, customer support tools, and many others.
HubSpot is an all-in-one marketing platform that provides everything from lead capture to email campaigns to social media analytics.
Messenger Bot is a software program that is a chatbot on Facebook. It's an AI automated chatbot that had a lot of features that you can use.
Any marketers would already have an idea of which marketing automation software to choose.
But to those still starting small business owners who want to find a suitable customer relationship management software to integrate, this blog is for you!
Will having marketing automation helps your business?
Marketing automation helps the business grow by automating specific tasks.
Market automation had a lot of advantages.
Some numerous tools and methods can help you automate your marketing strategy. But it is crucial to weigh the pros and cons of each device to find what works best for your business needs…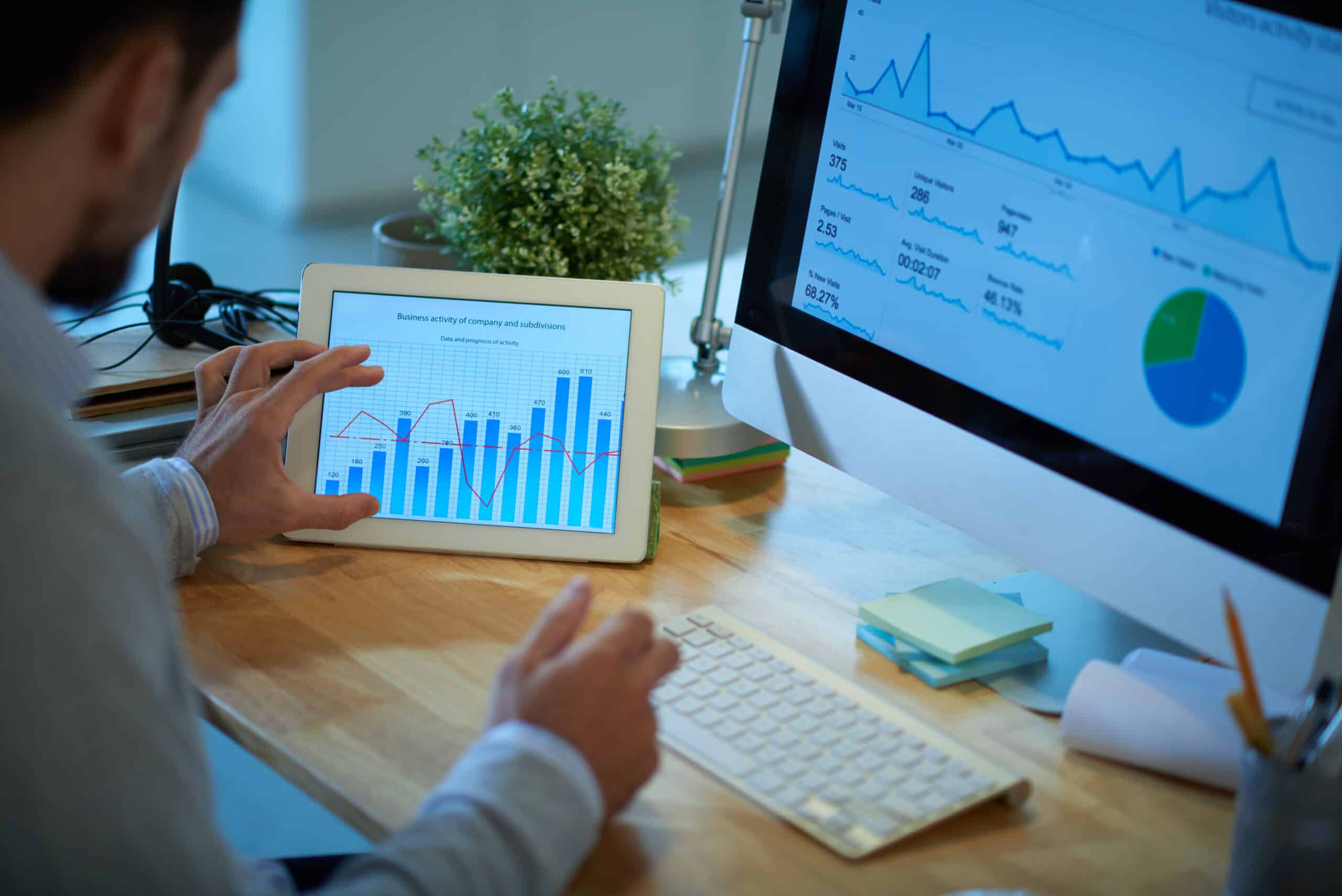 The question then arises, which one should you use? Zoho CRM or Hubspot CRM or Messenger Bot?
There's not much difference, but we will contrast this three software to choose from.
What is CRM software?
CRM stands for Customer Service management, in which it handles email marketing, contact management for lead generation, and software solutions.
CRM is being used by many companies that had enterprise edition customers that need to be handled to keep track of the customer service and sales data.
CRM is software that connects with different types of platforms such as email, sales automation, social media platforms, telephony systems, and much more.
CRM software is an excellent way for you to manage your sales pipeline and automate repetitive tasks such as prospecting and email marketing.
Most companies mid-sized businesses or even small companies are also using CRM software for their business to grow.
We will compare the three most rapidly growing CRM software: Zoho vs Hubspot vs Messenger Bot.
We will later discuss why these three are sought out by a lot of companies and business owners.
What are Hubspot CRM and Zoho CRM?
Hubspot CRM is a customer relationship management tool that helps you market to your customers to have personalized customer journeys.
Zoho CRM is an all-inclusive deal that helps manage the whole company for critical reports, lead management, and marketing campaigns.
These two CRM software are part of the extended-standing CRM in CRM vendors. They use a CRM system that keeps the company record, prospect data, track customer interactions, and many more.

What is Messenger Bot CRM?
Messenger Bot is the new CRM making a name in the CRM market because of its affordability that can also do CRM solutions and utilize other CRM tools.
Although Messenger Bot is relatively new, it has additional features that the other CRM software doesn't have.
Comparison of Zoho vs Hubspot vs Messenger Bot: An Overview
(An overview of Zoho, Hubspot, and Messenger Bot. Features and tools)
These marketing hubs are software integrations that are used for managing marketing campaigns. They are all CRM integrations that help with the process of generating leads and converting them into customers.
Hubspot is a comprehensive online tool, but Zoho is not as robust compared to Hubspot's features-wise capabilities. Messenger Bot offers many different functionalities that Zoho does not provide – an excellent choice for those looking to focus on custom automation and bots.
There are some critical differences between these CRM integrations that you should be aware of why we need to know their difference and advantages!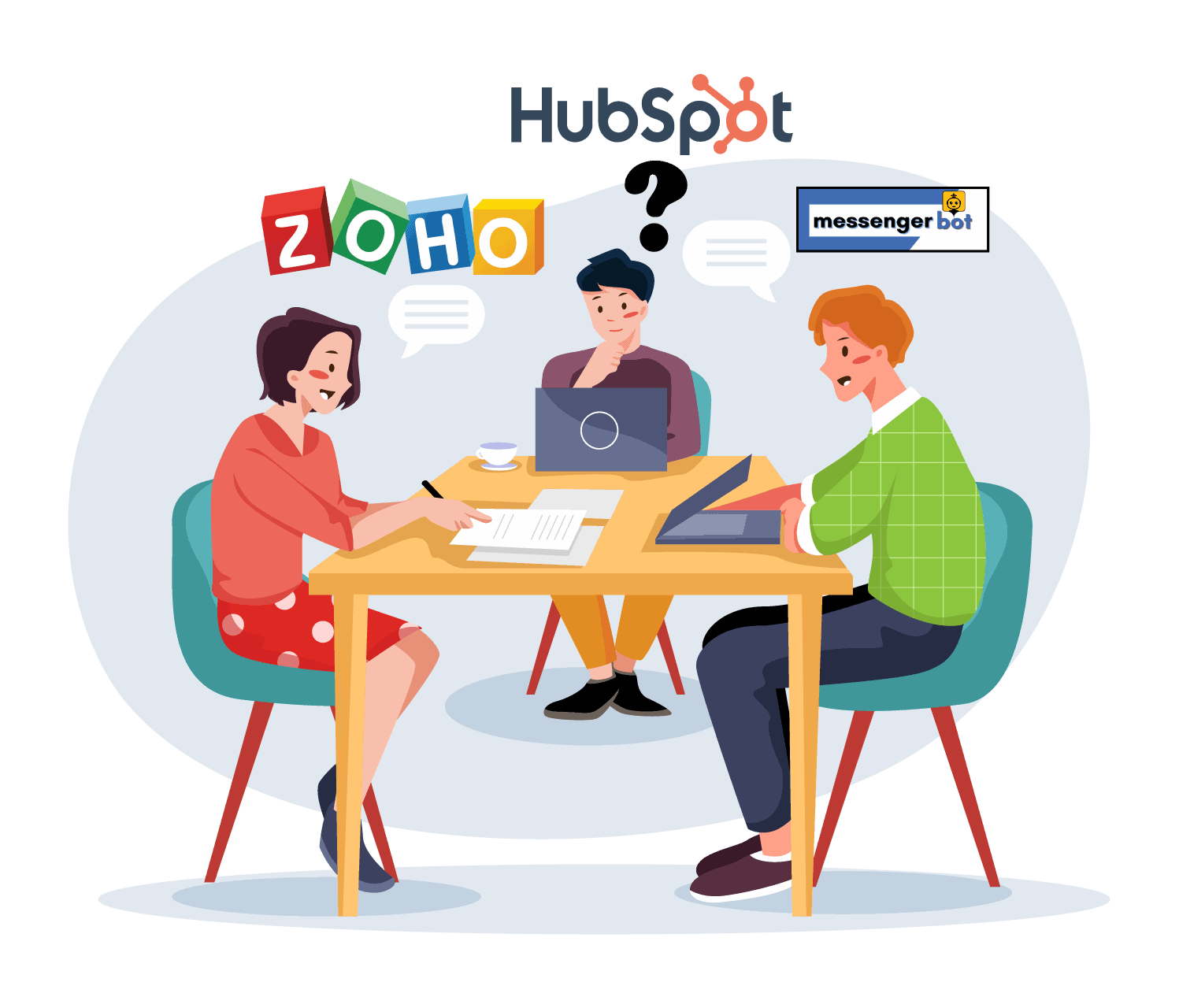 Which is better, marketing automation software HubSpot or Zoho, or Messenger Bot?
Zoho
It had four pricing tiers paid editions plans: Standard for $4 per month, Professional for $23 per month, Enterprise plan for $40 per month, which is the most popular pricing plan. And, Ultimate for $52 per month.
Zoho CRM offers its free edition CRM software. As well as a free plan that you can access like;
Leads
Tasks, call logs, and notes
Page customization
Workflow Rules
Standard reports
Email templates (Limited)
Folder sharing
Website visitor tracking
Zoho CRM contextual gadget for Gmail
Zoho is also integrated with G Suite to arm you with various tools to make your Subscription operations nimble.
Zoho is free for a 15-day trial, but after 15 days, you will be moved to the free plan.
Also, Zoho had CRM Plus that can be paid $57/user/month billed annually.
Hubspot
Hubspot offers paid editions three pricing plans; Standard, Professional, and Enterprise plan.
The standard plan is $45/month and $540/year. If you decided to pay annually, that saves 10%. It starts at 1,000 marketing contacts.
The professional plan is $800/month and $9,500/year, starts at 2,000 marketing contacts.
Enterprise is $3,200/month and $38,400/year that starts at 10,000 marketing contacts.
Hubspot will give you 90% off through the Hubspot for Startups Program if you work for a start-up.
It also had free version tools that you can access for free like:
Form
Email marketing
Ad management
Live chat
Reporting dashboard
Landing pages
Conversations inbox
List segmentation
Team email
Conversational bots (Limited features)
Mobile optimization
Hubspot mobile app
Email reply tracking
Email templates
Messenger Bot
Messenger Bot pricing is cheap and straightforward.
It had advantaged for starting business owners that want to automate their websites.
Messenger Bot Premium is $4.99 / First 30 days and after $9.99 / 30 days.
It also had a free trial that you can explore for free!
User Interface
(user interface of Zoho, Hubspot, and Messenger bot. its advantages)
Zoho and Hubspot, as well as Messenger Bot, are all free CRM tools. But the Messenger Bot is much better because it can work on any device and has a better user interface that allows more straightforward navigation and customization options.
We will explain later what their advantage is in their UI.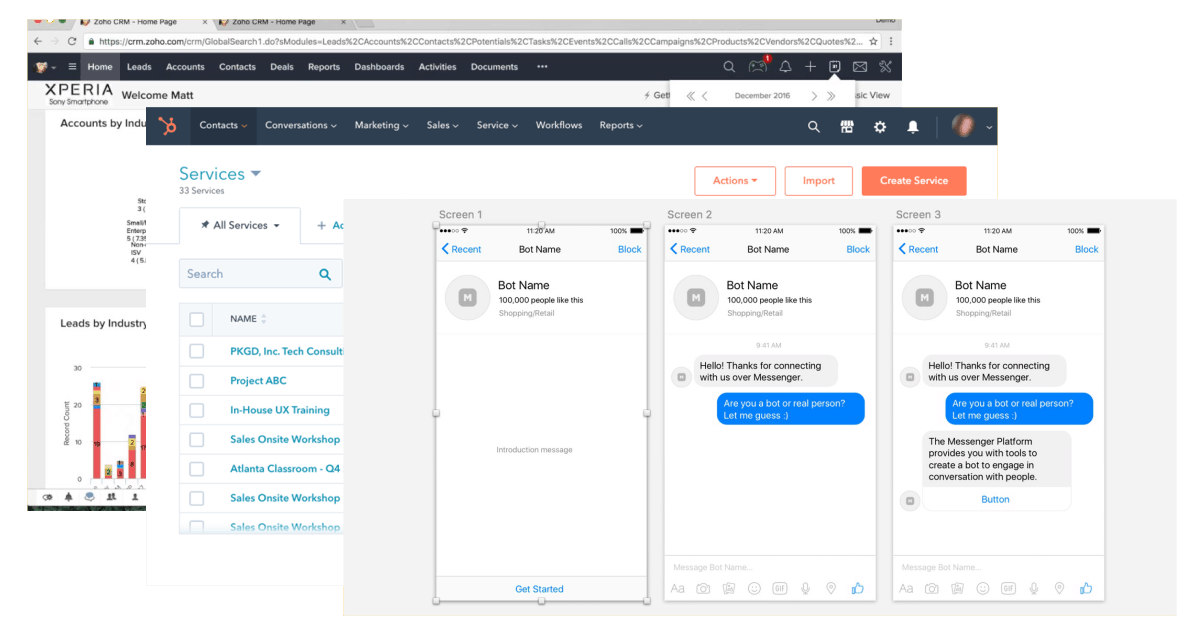 Zoho
Zoho had been around for a while and has been growing steadily.
It is more expensive than Hubspot but cheaper than Messenger Bot when you compare packages.
Zoho had reporting features for custom reports and CRM systems that can help sales opportunities and lead management for the sales team.
The most apparent downside of Zoho is that it does not offer predictive or real-time analytics -Hubspot has much more advanced reporting that can only help in contact management.
Hubspot
Hubspot offers a lot of features and tools that make its interface very easy to use but unique. It had a drag and drop interface that is very user-friendly. All the components are grouped into custom modules, which help you find what you need quickly and easily.
It also had Hubspot marketing and Hubspot sales hub that can help in the sales process and sales forecasting.
Also, Hubspot offers a Hubspot academy that provides free training for inbound marketing, sales reps, and customer service. It aims to educate users on how to utilize the Hubspot software to improve their marketing hub and custom fields and lead generation.
Messenger Bot
Messenger Bot user interface is user-friendly and can be customized. That's why many companies and business owners are using Messenger bot because of its social media features. You can integrate Messenger Bot into social media platforms like Facebook. It had additional features that in-app support options can't do.
Messenger Bot also can build customer loyalty by giving out coupon codes and other promos just for being a follower of your website.
Zoho CRM
Zoho CRM offers assistant to help you train your sales teams. It also allows for easy collaboration and can integrate with other Zoho products like analytics, customer support, etc.
It improves the sales team for sales forecasting for this marketing hub. Also, Zoho CRM offers phone numbers integration that can handle even a million contacts.
Zoho integrates with standard invoicing, financial and other business tools.
Hubspot CRM
Hubspot CRM is a software that allows the user to manage their marketing and sales for their company. It is this combination of features that makes it so powerful. Hubspot sales is a sales management software that allows users to track their leads, create email campaigns and manage outbound marketing.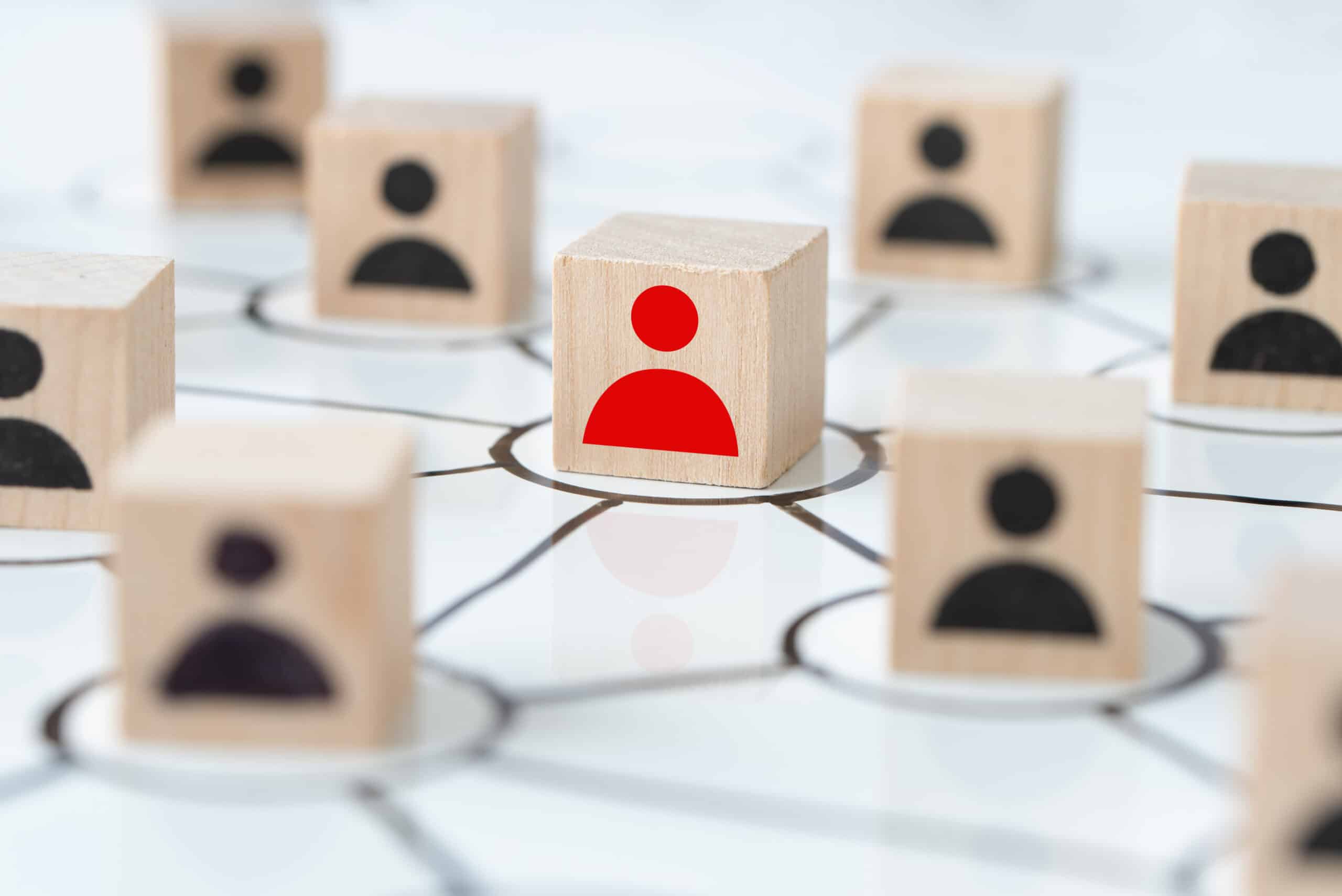 Hubspot CRM for sales hub that helps business growth!
Messenger Bot CRM
Messenger Bot CRM can help you generate and nurture leads. It also offers integrated sales, marketing, and customer service tools to give your company an edge over the competition with a single, easy-to-use interface.
Messenger Bot CRM allows the sales team to act on leads when they are still in their research phase by using the free version.
Comparison of Zoho vs Hubspot vs Messenger Bot
Overall Conclusion
This Three marketing software have their strengths and weaknesses: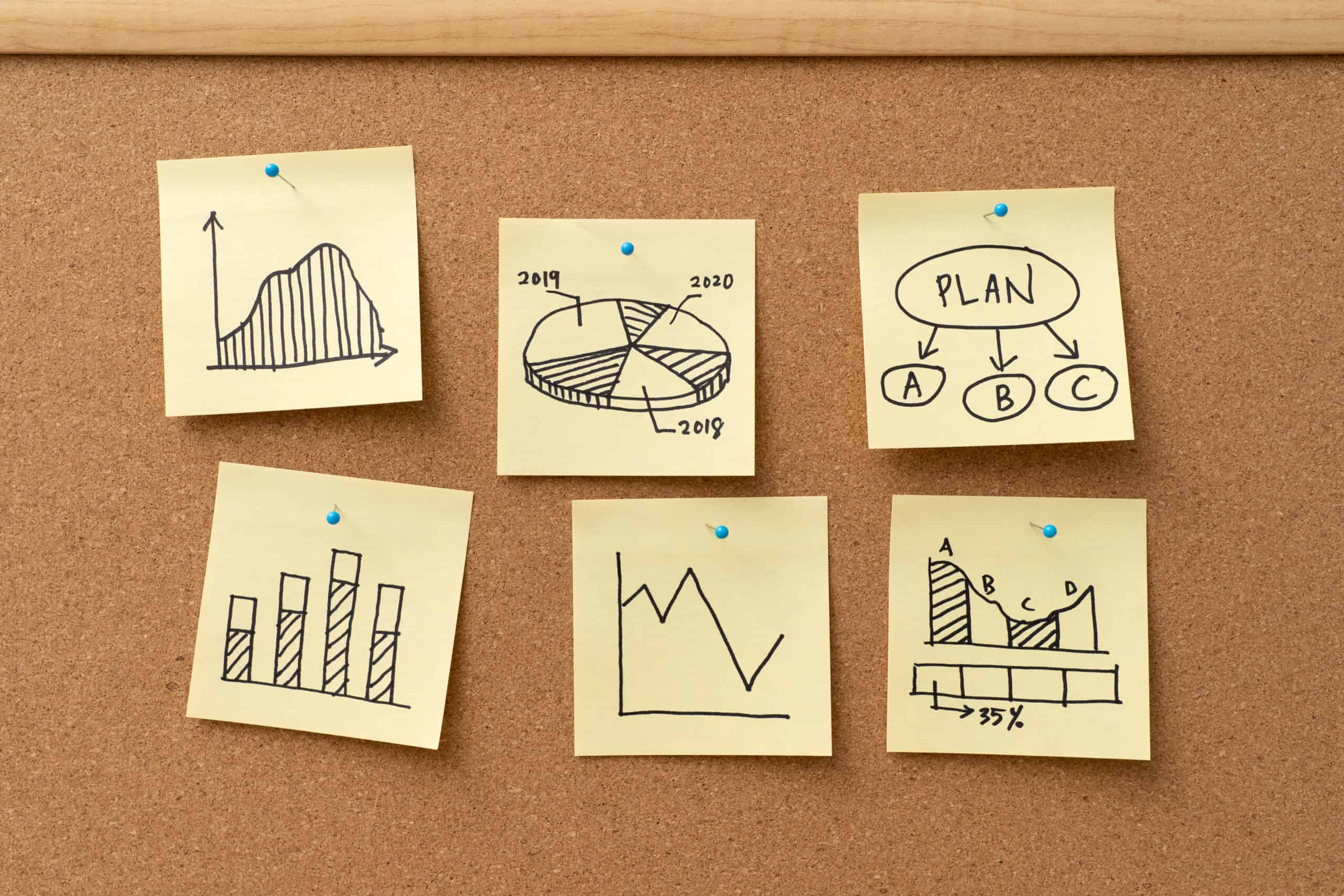 Zoho CRM is a customer relationship management software that has been in the market for years. Zoho integrates with a lot of other software and has an affordable price.
Hubspot CRM is designed to help small businesses grow their revenue, find new customers, and manage lead generation that converts into customers.
Messenger Bot CRM is a chatbot that allows the sales team to act on leads when they are still in their research phase. Messenger Bot had many features and tools that you can choose that are affordable and easy to use.
You can visit these links by tapping on them:
https://www.zoho.com/ for Zoho offers as well as https://www.hubspot.com/ for Hubspot information. And lastly https://messengerbot.app/
You already have an idea about their key differences you can choose the one that suits your needs.
Good luck!