In recent years, there has been a surge of new tools available for customer service. These new technologies offer a number of benefits to businesses that want an effective way to improve their customer service. In this blog post, we will compare three popular tools: Intercom, HubSpot, and Messenger Bot. We'll cover the pros and cons of each tool as well as give you some tips on how to choose the right one for your business!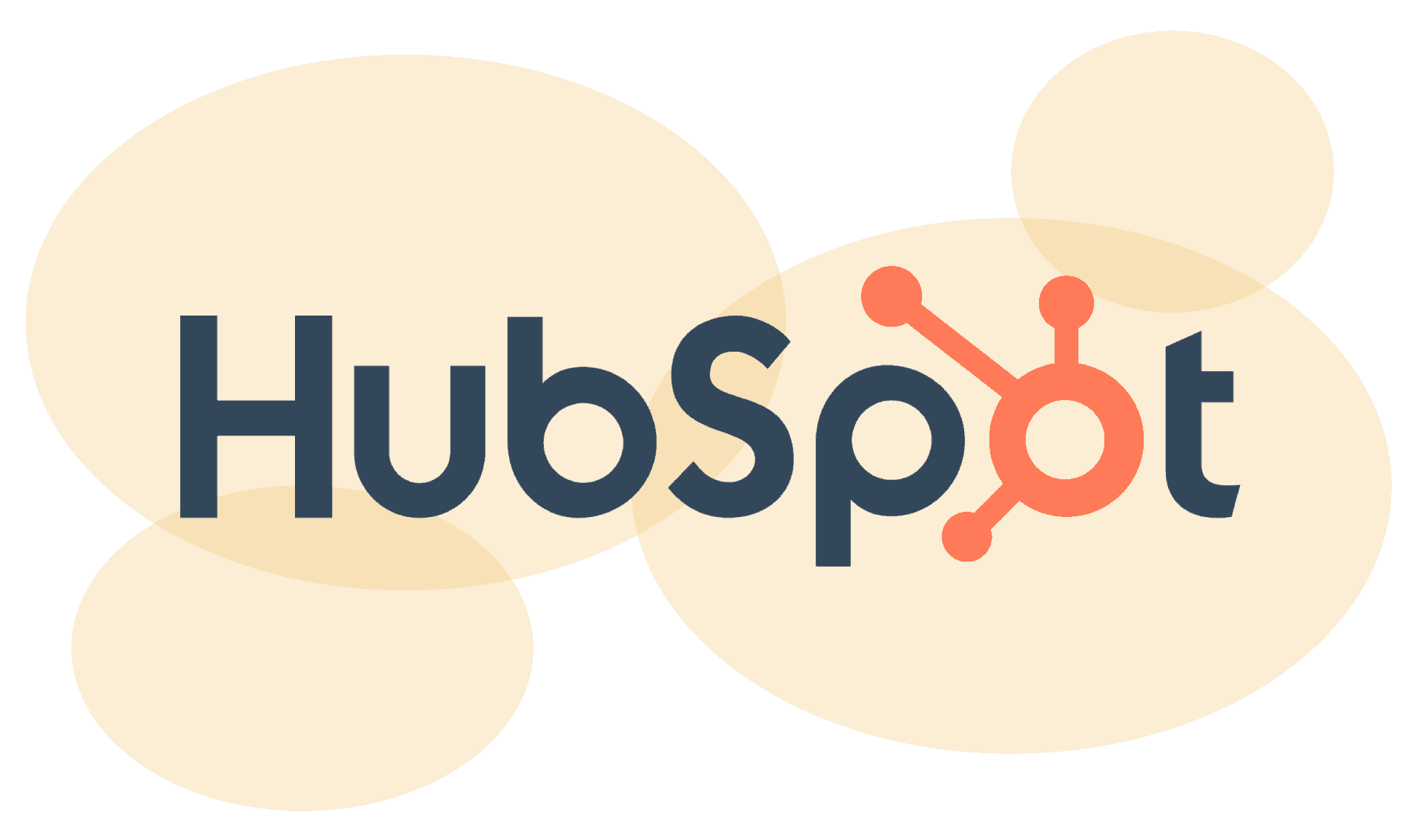 HubSpot is a powerful marketing and sales platform that helps businesses attract visitors, convert leads, close customers, and create repeatable revenue. In addition to the core services mentioned above (marketing automation software, CRM software), HubSpot also provides email marketing tools for sending transactional emails as well as personalized email campaigns with content from your blog or website.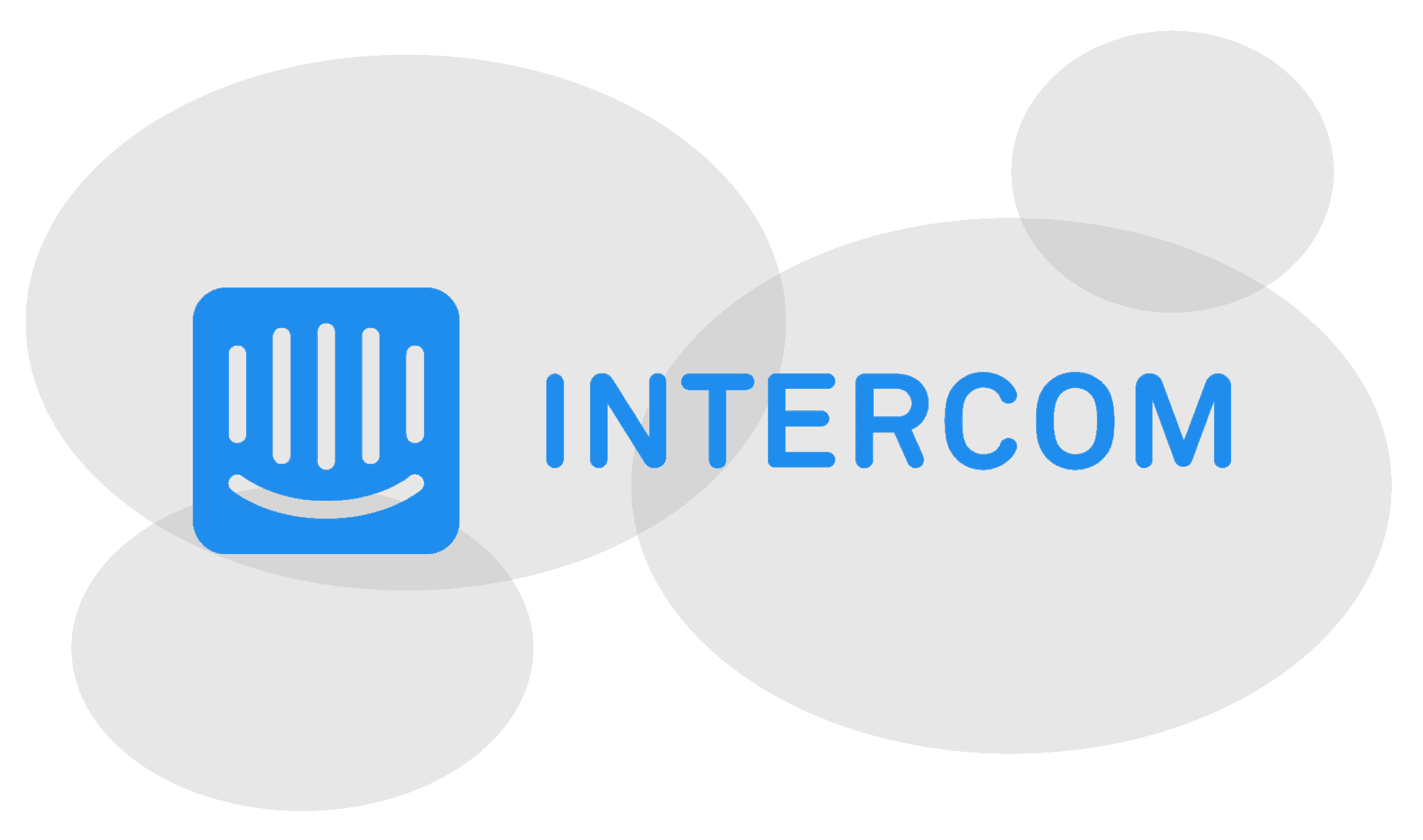 Intercom is a customer platform that helps businesses deliver personalized and relevant messages to their customers. With Intercom, companies can provide better experiences for users while gaining valuable insights about them on the backend.
Intercom mainly focuses on three areas: user engagement, targeted messaging, and analytics. The platform provides businesses with a complete solution to gather customer insights, deliver personalized messages and optimize the user experience.
What tools integrate with HubSpot?
HubSpot integrates with many tools. These include:
– Google Analytics
– Salesforce
– Marketo
and many more. Integrations are constantly being added and improved upon.
What tools integrate with Intercom?
Intercom integrates with a number of tools that can increase your productivity. There are applications for sales, marketing, customer support, and product management teams to help you work more closely together.
If you're an Intercom user then any new tool you try will likely be easy to integrate into your workflow as there is already so much integration already in place.
You can connect your Intercom account with other tools using the list of apps below: * Google Analytics  * Slack  * Zendesk  * HubSpot  * Salesforce 
The most popular way to integrate with Intercom is through their Zapier integration.
Zapier makes it easy to connect your Intercom account with the other tools you use every day through scripts called "zaps." You can easily create new zaps from templates or by building them yourself step-by-step.
Intercom vs HubSpot Features Comparison
Knowing the features of Intercom and HubSpot can help you choose which tool is best for your business. Comparing Intercom vs HubSpot can help to make the decision easier, especially if you are trying to decide between Intercom and many other marketing automation tools on the market.
HubSpot Live Chat vs Intercom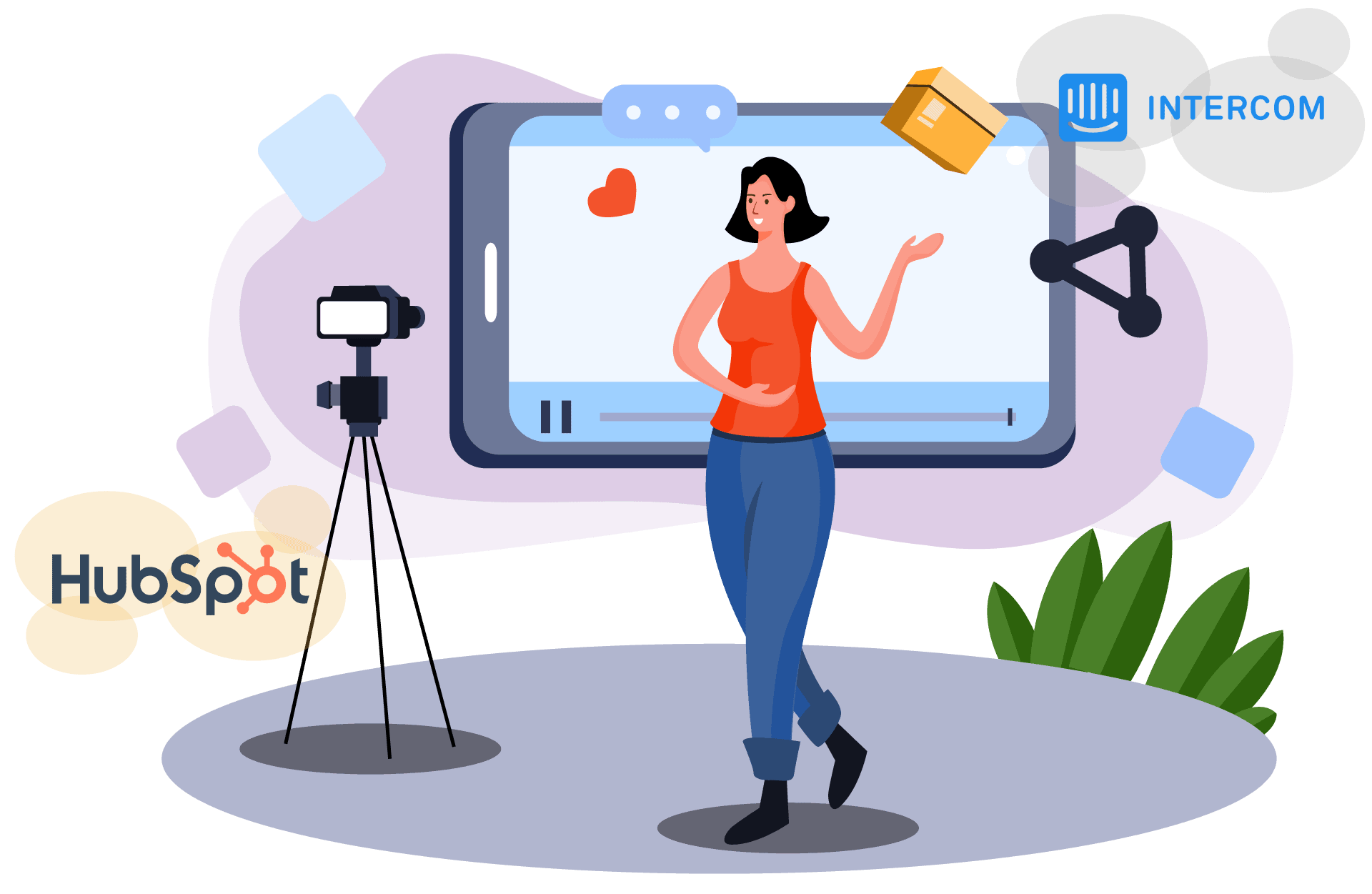 Live chat features are a great way to provide customer service. Intercom and HubSpot have this feature, but Messenger Bot does not. It is important to understand how live chat will be used within your business before choosing between the two tools.
Intercom has a unique feature that allows users to not only chat via text but also video. The videos are recorded and available after the chat is completed, which can be reviewed for training purposes or customer service improvement.
HubSpot Live Chat has a one-way window where you can see your customers as they type out their questions or comments. It also has a chat history that you can access at any time. It does not have the ability to record videos like Intercom Live Chat, but it does offer scheduled chats or on-demand chats.
Messenger Bot also has scheduled and on-demand live chats, but only offers text rather than video as well as no recorded messages after conversations are completed. There is also no chat history available to access.
The best tool depends on your business and what you need it for, but HubSpot Live Chat and Intercom are both good options depending on how they fit within your company's goals. Messenger Bot does not offer live chat services so it would not be a good option for live chat.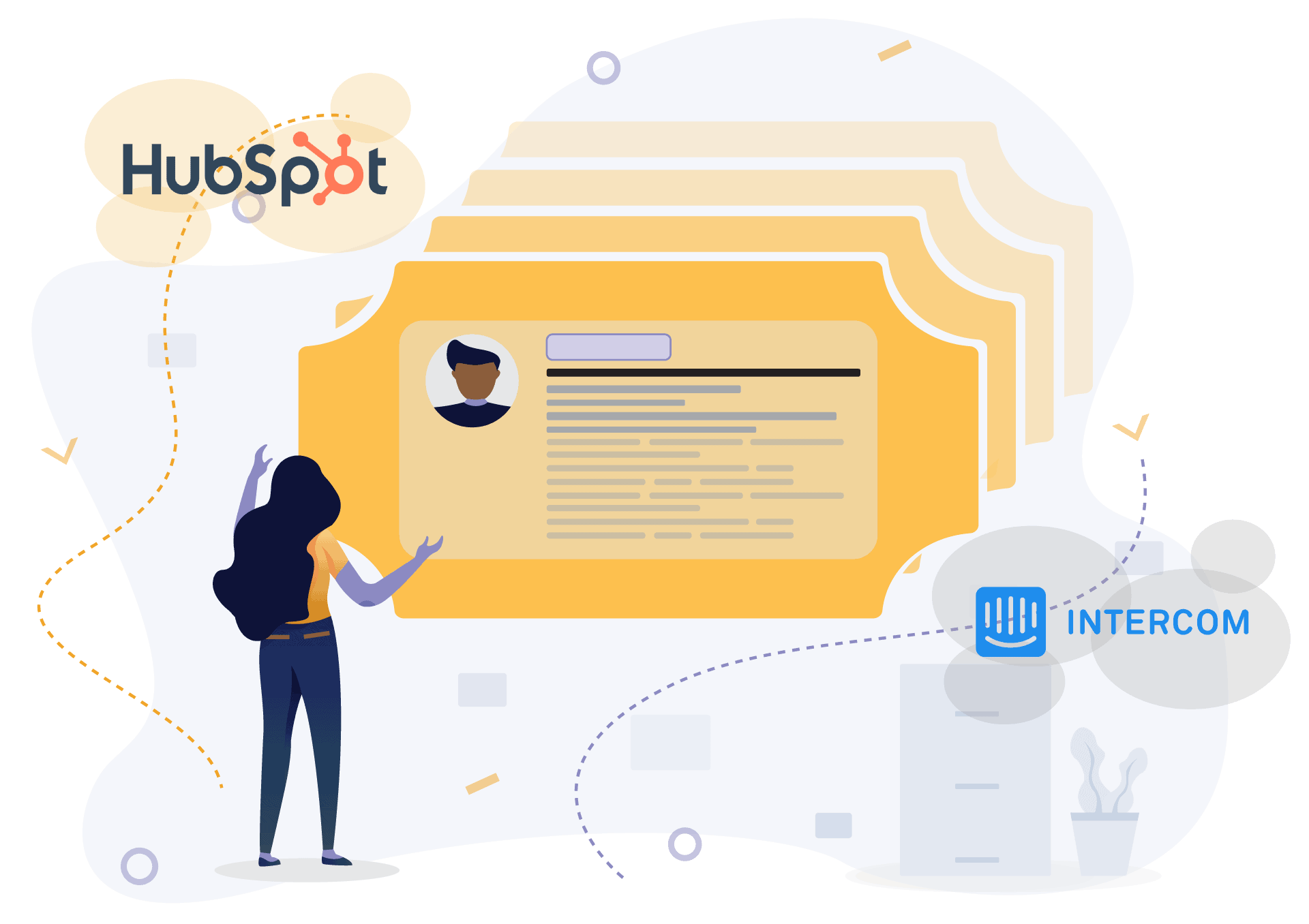 Help desk and ticketing are vital to customer service. These features allow a company representative to follow up with customers and answer questions quickly, without having the customer submit a new support request each time they have an issue or question. If you use Intercom, this is simple thanks to their help desk feature which includes powerful contact management tools as well as email-style conversations that allow you to communicate with all of your web visitors.
HubSpot's contact management is excellent, but their chat widget doesn't have much power when it comes to following up with customers. The live chat feature can be useful for getting information from a customer quickly or answering simple questions, but Intercom's chat widget offers much more functionality.
Intercom and Messenger Bot both offer help desk features that allow you to follow up with customers easily. HubSpot's contact management is very powerful, but it doesn't have a dedicated tool for following up with your web visitors as the others do.
When it comes to helpdesk and ticketing features, Intercom wins out because it has more functionality than HubSpot and is comparable to Messenger Bot. Users of all three tools will find that they can follow up with customers very easily, but those looking for even more functionality should consider Intercom.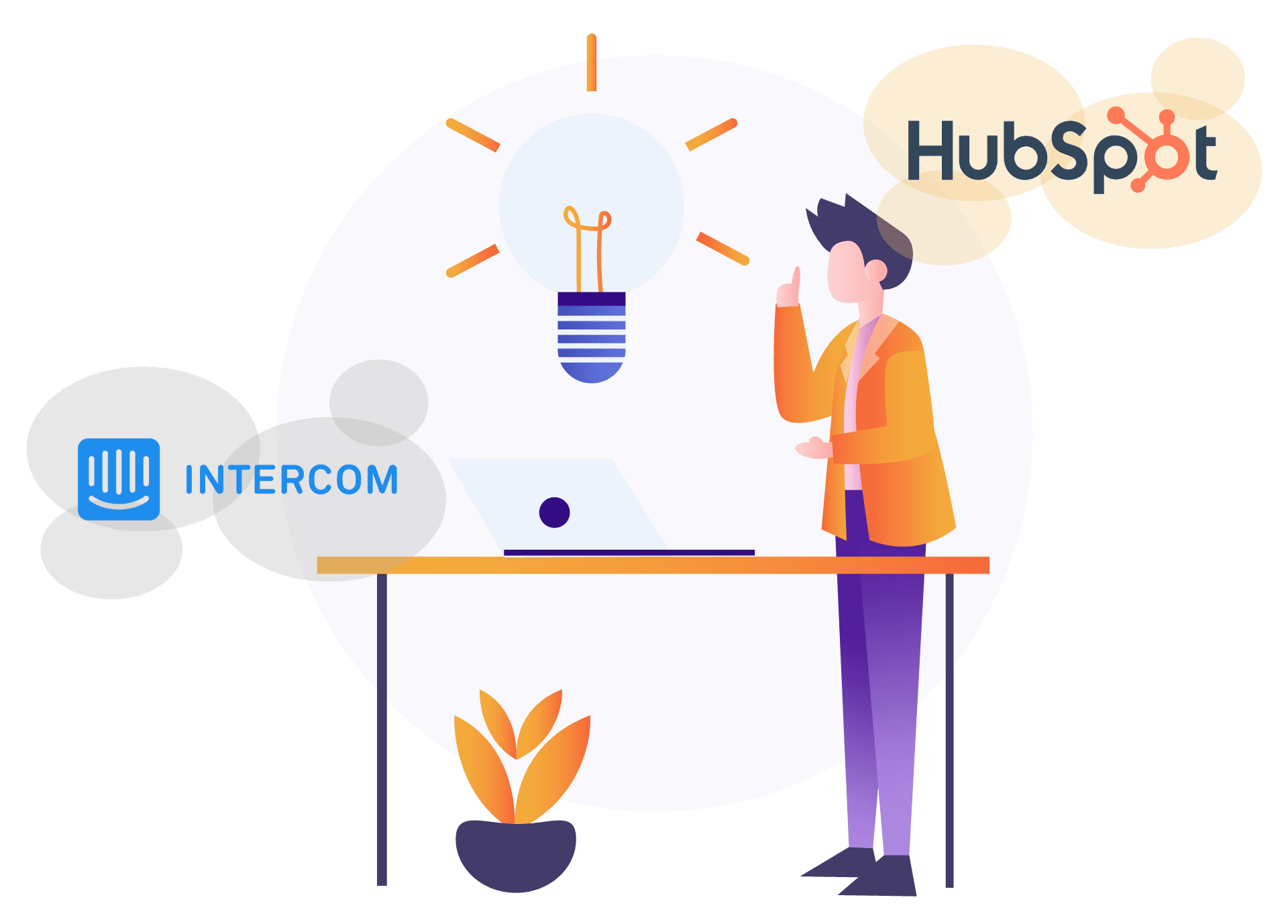 A knowledge base is a powerful tool in any customer service software, and it's something that many companies overlook.
A knowledge base is important because it gives your customers the chance to help themselves before reaching out to you for help—which can save them time and money. In fact, studies have shown that 61% of people would rather solve problems on their own before contacting customer service.
A knowledge base is also a great way to increase the efficiency of your support team by having written answers at their fingertips, rather than forcing them to search through individual tickets for customers when they're short-staffed or dealing with time zone differences in different parts of the world.
Some companies struggle to implement a knowledge base because they're afraid that their customers won't easily find the answers to their questions. This is why it's crucial for you not only to include an intuitive search bar on your knowledge base but also to ensure your content team creates useful articles answering common questions and issues.
With Intercom's knowledge base, you have access to both self-help articles that are automatically indexed for search engines as well as tickets created by your customers. To create a new article in your knowledge base, you can either click the "Add Article" button at the top of your knowledge base or search for an existing article and select "+Create new."
HubSpot's knowledge base is similar to Intercom's, except for the fact that you can't search through existing articles. This means it relies more on your content team's ability to know what questions and issues their customers are likely going to have before they even ask them—which may be a bit unrealistic if your customer base consists of small businesses with limited resources.
While Intercom's knowledge base is great for customers who are used to using self-help articles, Messenger Bot's help center provides a way for customers to get quick answers in real-time when they need them without having to search through dozens of questions and topics.
In terms of knowledge base, Messenger Bot and Intercom are both great options for companies that want to provide their customers with a way to help themselves. However, HubSpot's knowledge base is lacking in the ability to search through existing articles—which makes it more difficult for your content team (and users) if they're struggling to know what questions will come up before they even ask them.
While both Intercom and Messenger Bot are great tools to improve customer service, Messenger Bot has several advantages over Intercom that make it more appealing—including its ability to provide quick answers in real-time when you need them most.
Customer Service Automation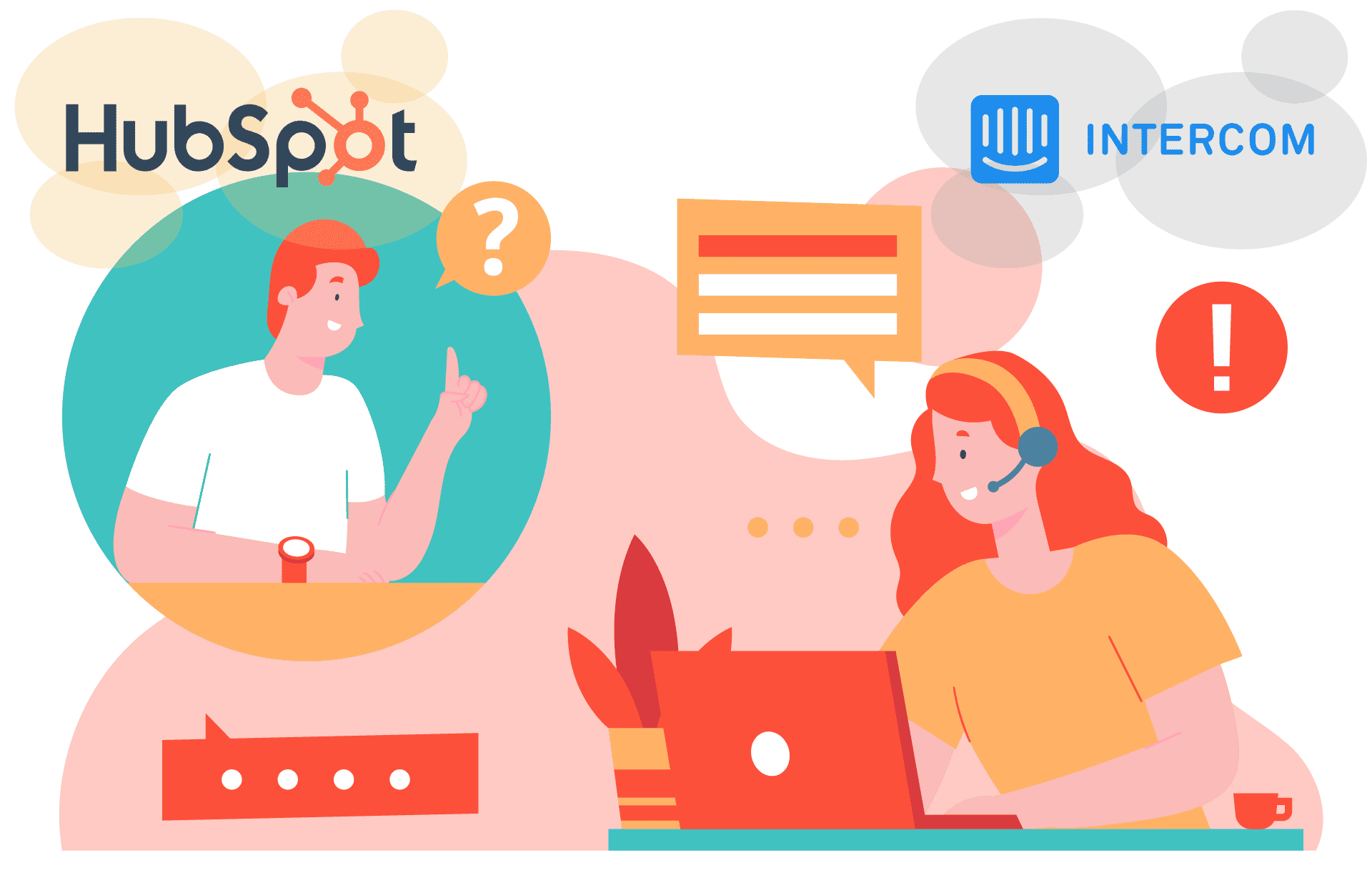 Customer service automation is important in a customer service tool because it allows you to focus on delivering value and delighting your customers. Customer service automation enables you to personalize the experience by automatically sending personalized messages based on different rules so that each interaction is relevant and timely.
Customer service automation should be simple: If it isn't simple, your team won't use it.
Customer service automation should also be powerful: If you tried to do something very complex before and failed, that's OK. But know that customer service tools are here now to help make things easier for you by allowing you to automate more of your interactions.
Intercom's automation is built on the idea of context, which means you can send messages based on any data point or behavior that matters to your business. With Intercom's new Workflows feature, messaging rules are now more powerful than ever before.
HubSpot offers a number of workflow templates designed for common customer cases like Abandoned Carts and Product Usage. You can also create custom workflows that are triggered by specific events.
Messenger Bot gives you complete control over what automated messages to send using a simple drag-and-drop interface. Messenger Bot's automation is extremely versatile because it allows you to use any type of trigger or action, giving you total freedom in designing your workflow.
Overall, Intercom takes the cake for customer service automation because it has a simple and powerful user interface that allows you to build workflows quickly. Messenger Bot is a close second due to its flexibility, which gives you total control over your automated messages. HubSpot comes in third place because of its pre-made workflow templates, but be aware that those can't change or be customized.
Intercom vs HubSpot Marketing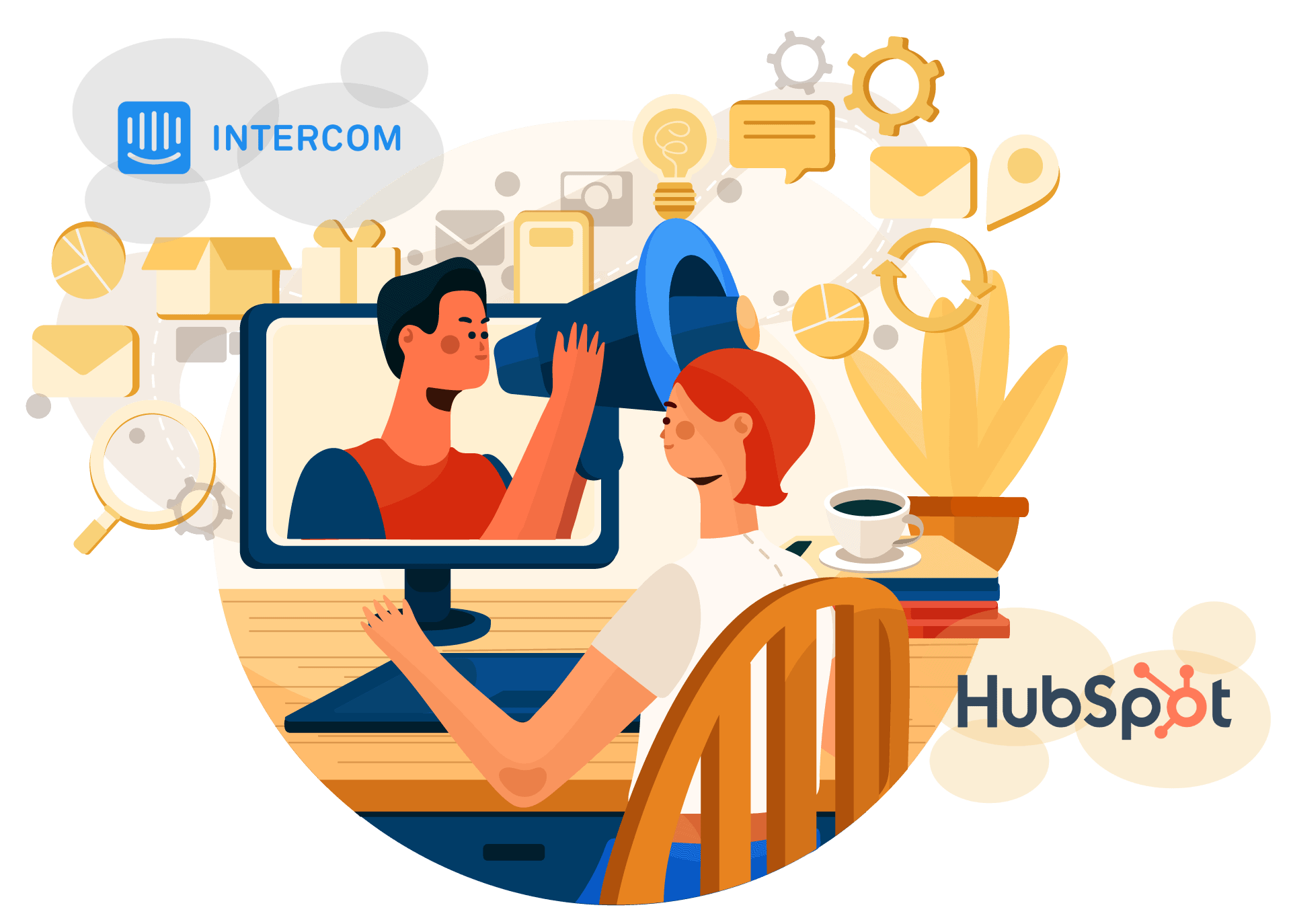 Marketing features are important in a customer service tool because they allow you to identify the right customers for your business.
– Email Automation allows businesses to send automated, personalized emails based on the behavior and preferences of individual users across their inboxes.
– Segmentation helps marketers create targeted campaigns and product experiences at scale.
– Product Insights allows marketers to see user behavior, engagement with content, and campaign performance in one place.
Intercom's marketing features allow businesses to identify the right customers for their business. Email automation in Intercom allows businesses to send automated, personalized emails based on the behavior and preferences of individual users across their inboxes. Intercom's segmentation feature helps marketers create targeted campaigns and product experiences at scale. Last but not least, business owners can use Intercom's insights feature to see user behavior, engagement with content, or campaign performance in one place.
HubSpot provides email automation, which allows businesses to send automated, personalized emails based on the behavior and preferences of individual users across their inboxes. It is also possible for marketers with HubSpot to create targeted campaigns using segmentation at scale. Marketers can use product insights in HubSpot to see user behavior, engagement with content, or campaign performance in one place.
Messenger bot is an AI-powered messaging platform for businesses to provide automated, personalized experiences to their consumers. Marketers can use chatbots to send automated, targeted messages based on consumer behavior and preferences across multiple channels including Facebook messenger. Lastly, marketers can also track user activity in real-time to provide a better customer service experience.
In terms of marketing features, Messenger Bot is the most comprehensive solution available. With Messenger Bot, marketers can automate targeted messages based on consumer behavior and preferences across multiple channels including Facebook messenger. Marketers can also track user activity in real-time to provide a better customer service experience.
HubSpot Messages vs Intercom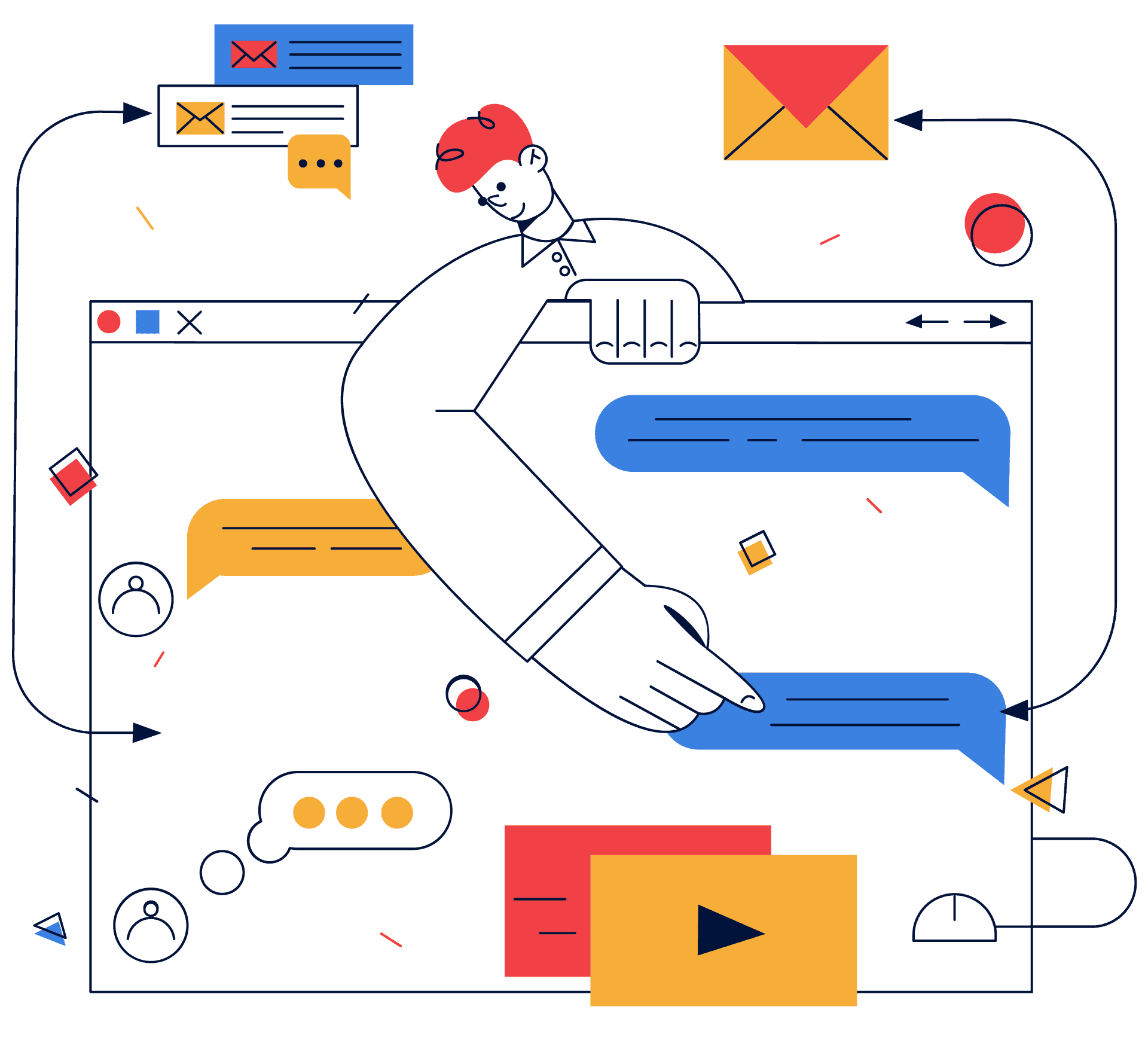 Messages are important for providing support to your customers. The more information you have about how they use your product, the better able you are to serve them and keep them as a customer.
Intercom provides a simple way to see the messages that customers send you. You can then reply directly from within Intercom, instead of having to go back and forth through email or your website.
HubSpot also has messaging built into its product, but it is more focused on sales and marketing than customer service.
Messenger bots are a relatively new tool, but they can be very powerful for customer service. They allow you to communicate with your customers through Facebook or another messaging platform. This means that people do not have to leave their current application in order to talk with you—it's all built right into the service they are already using.
Overall, Intercom's core focus on messaging makes it the best tool for customer service. HubSpot is not as helpful when you want to keep track of messages, but they are great for sales and marketing tools.
In general, Intercom is best when you want to communicate directly with your customers through messages and keep track of those communications in one place.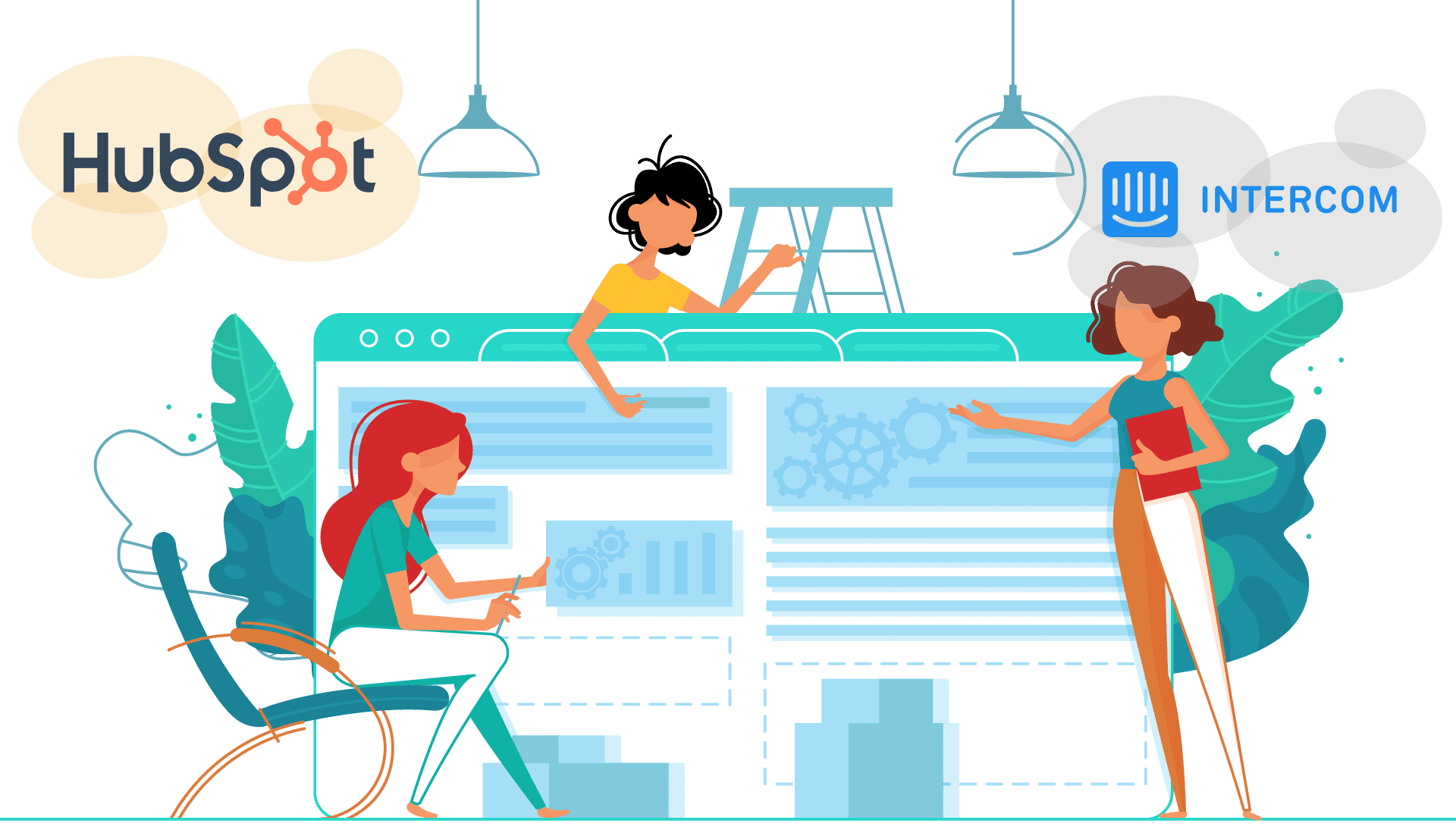 The user interface is important because it's the first thing that your customers will see when they are interacting with a company.
If there are too many steps or menus to go through, people might get frustrated and leave before even trying out what you have to offer. If the UI is too complicated, customers might have a difficult time understanding how to use your product.
A good user interface makes it easy to find the information you need, quickly get answers from support reps, and make changes on the fly. It saves everyone's time in the long run and leads to a better customer experience.
You'll have the best chance at success if you design with your audience in mind. You can do that by understanding who they are, what they want from you, and building features accordingly. If it's easy enough for them to use, they will be more likely to continue using it in the future.
Intercom is designed to be simple enough that any customer can use it, but also customizable so you can make your product unique.
Hubspot is easy for people of all experience levels to learn and doesn't take long to get used to using it.
Messenger bots are simple to use because they don't require any installation or downloads, and once you create a chatbot it's easy for people to find.
The main benefit of using a messenger bot is that it makes your business more accessible–you don't have to worry about whether you're working the right hours or what time zone your customers are in. You can also reach people from anywhere with Messenger bot, not just on a phone number that they need to call during business hours.
In terms of a user interface, HubSpot and Intercom are both similarly easy to use. Messenger bot is designed for anyone with a Facebook account so it's simple enough that most people can figure out how to use it without too much trouble, though the user interface isn't as customizable or complex as some other tools on this list.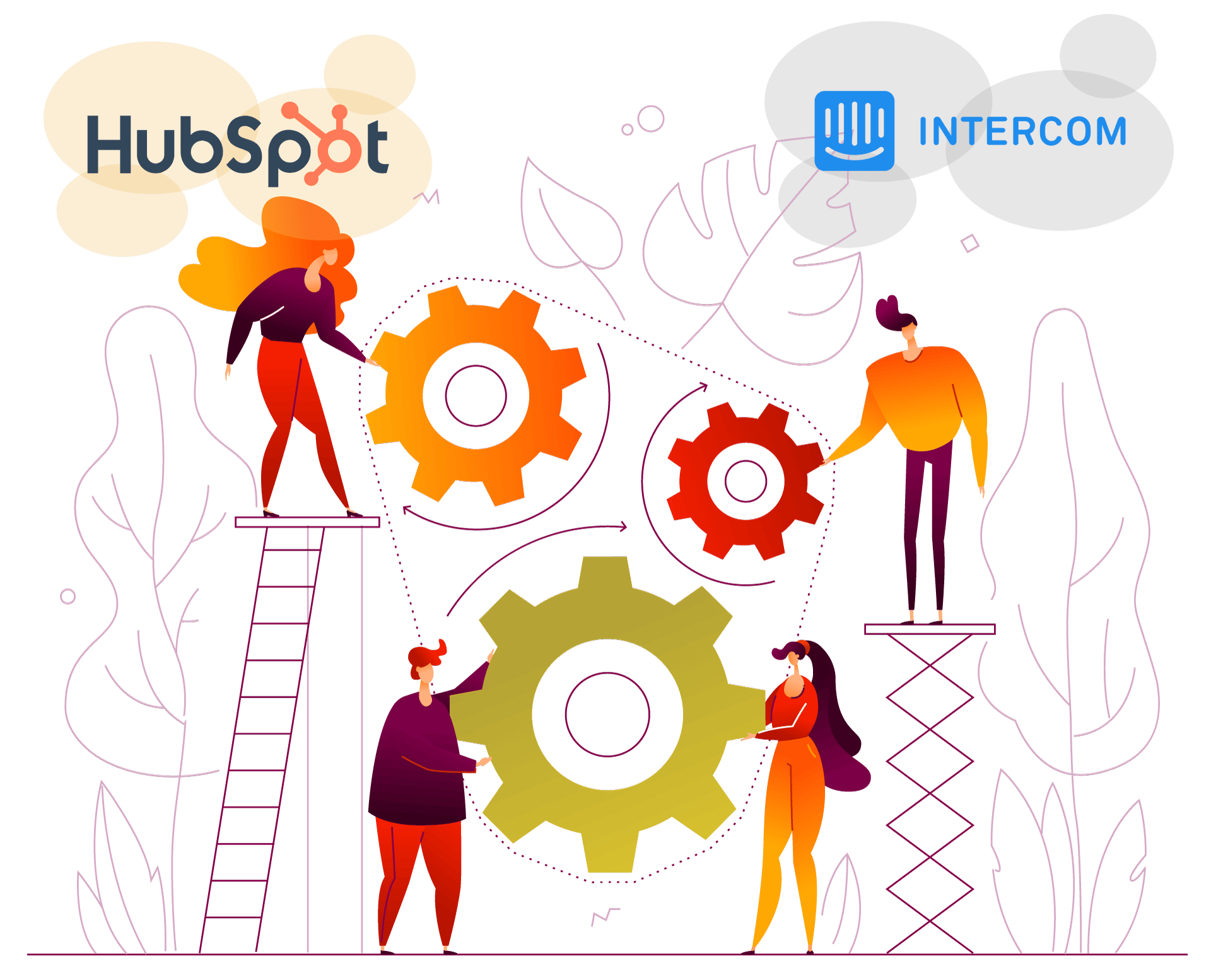 CRM integrations are an important part of any customer service tool. For one thing, they help your support teams work more efficiently by automating their workflow and improving communication with users.
The biggest reason to consider them is that most tools don't do everything on their own.
For example, you might want to use your CRM's knowledge base so that the information is always up-to-date with what users need. Or perhaps you want an instant messenger bot integrated into your CRM software so agents can respond instantly and never miss a message.
The good news is that it's easy to get started with one of these tools by integrating them into your existing workflow, so you can see the benefits right away without having to change everything all at once.
Intercom integrates with many CRMs, including Zendesk and Salesforce. You can set up tasks in Intercom to be managed by your other tools so that there is always a complete workflow for support teams no matter what they're using.
Hubspot also integrates well with several different CRMs, including Salesforce and Zendesk. Like Intercom, Hubspot lets you set up automated tasks to be managed by other tools in your workflow so that nothing falls through the cracks.
Many messenger bots are open source or have APIs available for developers to integrate with any other software. If you want to integrate Messenger Bot with your CRM, it's easy since the APIs make integration simple and efficient for developers like you.
The best customer service tools let users connect their channels in one place so that there is always a full picture of what customers need when they need it.
This is especially useful for businesses that use more than one channel, like email and live chat on your website. Having a unified interface lets you manage customer service across all of these channels from the same place so nothing falls through the cracks or gets missed because users can't get in touch with you.
Overall, the best customer service tools integrate seamlessly with other software so that you can get set up as quickly as possible and start reaping the benefits right away. In terms of the user interface, it's best to look for tools that let you see the full picture and manage customer service across all channels, including email and live chat on your website.
HubSpot is a well-established tool that businesses trust. It is easy to use and integrates with many different systems, making it seamless for marketers or salespeople to run their business from HubSpot alone.
Hubspot makes marketing fun again! It takes all of the complex tasks involved in running an effective marketing campaign and makes them easy enough to do on your own.
Hubspot helps businesses increase productivity by streamlining workflows across departments, freeing up employees' time for more meaningful tasks that drive revenue growth. It also provides a single centralized environment where teams can collaborate seamlessly in real-time.
Hubspot is a simple and affordable way to improve your marketing strategy, grow sales and boost customer service. We offer all these benefits at no extra cost for our customers; we only charge you when someone pays or books! That means as soon as you start making money from Hubspot, we start paying you back.
Hubspot provides a powerful CRM that allows its users to track the activity on their website and social media channels like email marketing campaigns, forms submissions, etc. It also provides reporting capabilities for customer support which is helpful if your business has multiple people who answer questions over the phone or via email.
These are just some of the advantages of using HubSpot.
Intercom is a customer communication platform that integrates CRM with marketing and support.
– Intercom has live chat features for consumers to easily contact you and receive responses within seconds.
– It allows teams (including the CEO) to quickly communicate across all departments, e.g., sales, marketing, product – without needing multiple tools to do so.
– Intercom is available in the cloud and has a mobile app, allowing for real-time communication wherever you are.
– It's affordable compared to competitors like Salesforce which starts at $25/month per user with limited functionalities; intercom integrates CRM tools within one platform starting at only $49/month
Hubspot is not perfect and it may have some limitations compared to other CRM tools, but these can generally be overcome with creative thinking or by hiring an expert who knows how to use HubSpot.
– It does not integrate with other tools as well as some of the bigger CRM providers do. However, this is changing and we may see them start working more successfully with other key business apps in 2018/2019.
– You can't easily segment your database into smaller groups or lists – for example, by location. But you can use a workaround to do this – for example, with tags and conditional content in emails or SMS messages
– You have less flexibility when it comes to customizing reports – they are predetermined within HubSpot itself. So if another tool regularly sends your team prebuilt reports that reflect key metrics from their software then there may be less value in switching to HubSpot.
– It's not the cheapest CRM on the market, but it does offer a free version that is very useful for startups or small businesses. And its paid plans are more competitively priced than some of its rivals' offerings
– You have limited control over how your data appears in their user interface. For example, you can't change the order in which fields are displayed or how they appear on your marketing pages (homepage, landing pages, etc.)
– It doesn't offer any kind of automation apart from its "Assigned To" function – where one user is automatically assigned a task based on an email trigger sent by another person/bot.
– You can't send emails or SMS messages from HubSpot – you have to set up a separate email marketing tool for this, such as MailChimp or ActiveCampaign, and integrate it with your CRM account via an integration app like Zapier.
Intercom is a great tool, but it's not the right fit for every company.
Here are some of the cons to consider before moving forward with Intercom:
– The pricing model can be confusing and doesn't have a free plan or trial
– It isn't as user friendly when compared to HubSpot and Messenger Bot
– Constant updates can affect performance
– Poor customer support in some cases
What is better, HubSpot service hub or intercom live chat?
HubSpot Service Hub is a customer service tool that provides tracking, reporting, and analytics. You can do the following with HubSpot Service Hub:
– Manage all your help desk tools in one place—Ticketing systems ( Zendesk, Desk. com, Freshdesk ), Phone & Email Support, Social Networks, etc.—with conversation threads merged together.
– Track and manage all customer interactions through one central hub.
– Get daily email summaries about the performance of your team.
What does HubSpot service hub offer as an alternative?
HubSpot Service Hub is a new service from HubSpot that provides an all-in-one help desk and social media management solution.
It makes it easy to offer email, live chat, phone support directly within your website or mobile app while also providing tools for you to manage conversations with customers on top of social channels like Facebook Messenger.
HubSpot Service Hub integrates with the tools your team already uses including Salesforce, Zendesk, and Twitter so you can provide support through any channel. It also gives teams access to all their customer data in one place so they can take action faster.
In short: Providing support through your website, Facebook Messenger or any other channel is now much easier with HubSpot Service Hub!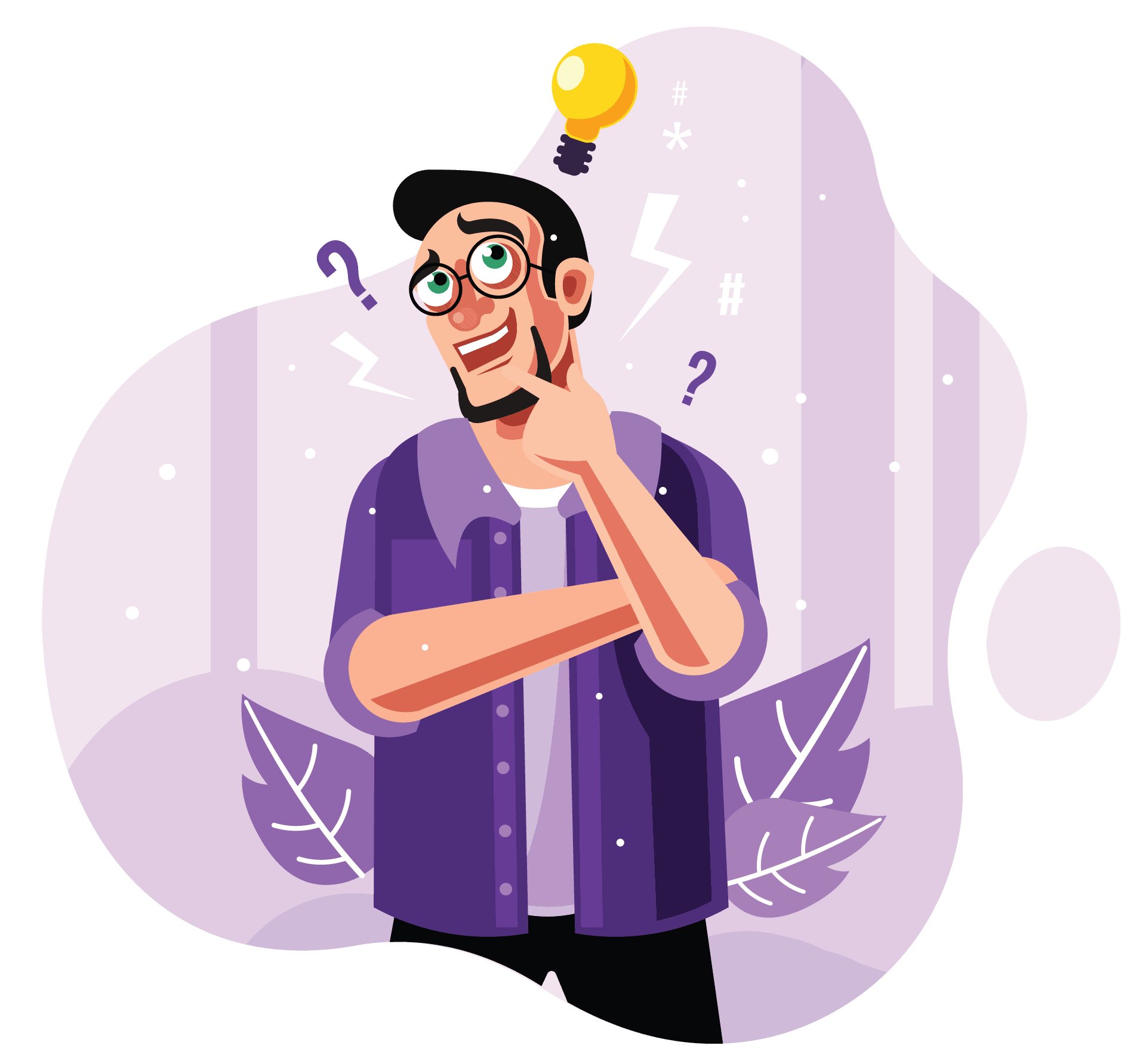 Customer service is a crucial part of any business. Studies have shown that customers are more likely to buy from companies that provide excellent service and respond quickly when they need assistance.
But, there is also another side of the coin: most businesses do not invest in their customer support because they simply don't know how. They cannot afford to hire an employee for this
In the end, customer service is all about being there for your customers when they need it most and providing fast support no matter what time of day or where they contact you from. By integrating different tools into one workflow, businesses can be sure that this will never change regardless of their business growth.
Intercom, HubSpot, and Messenger Bot are just a few of the tools that businesses can use to make customer service more efficient and effective.